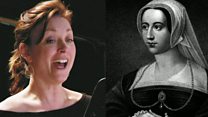 Video
Henry VIII's wife's music rediscovered
The music of Henry VIII's sixth wife Catherine Parr is performed for the first time in 470 years.
Music, with words written by Henry VIII's last wife, Catherine Parr, is being performed this Friday, for the first time in more than 470 years.
If follows intensive research carried out by Dr David Skinner, from Cambridge University, who spent months resurrecting the fragmented score found in the late 70s.