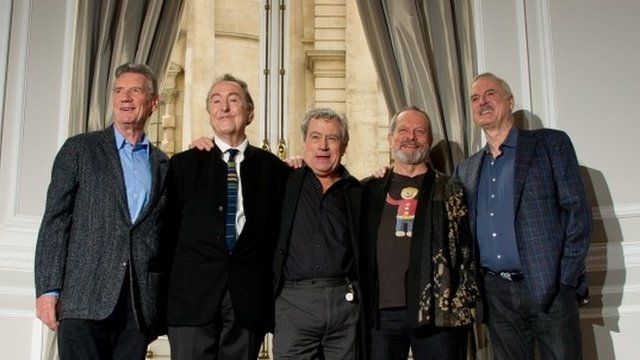 Video
Cleese: Reaction to Monty Python reunion 'extraordinary'
Tickets for Monty Python's first live show in over 30 years sold out in just 43.5 seconds.
The reunion will see John Cleese, Terry Gilliam, Michael Palin, Terry Jones and Eric Idle perform together from 1-5 July 2014 at London's O2 Arena.
John Cleese told the Today programme it has been "extraordinary to have such a positive reaction" since announcing their reunion.
He described the pressure to perform at other venues in the UK as "a very nice type of pressure".
Asked how the reunion had been so far, fellow Monty Python member Michael Palin remarked "for me the most difficult meeting [so far] was our first read-through. I thought, gosh, if this doesn't work what are we going to do?"
"There's something quite bizarre about sitting round a table and John [Cleese] and I doing the dead parrot sketch, reading it from the script," he continued.
He did however express relief that if they forget the lines at the 02 Arena then "14,000 people can prompt [them]. The biggest mass prompt in history."
On what fans can expect to see at their shows, Cleese noted: "We have to be very careful about how much new material we do as people want to see the old ones.
"But we can serve [old sketches] up in new ways and play tricks on the audience. Pretend to start a sketch and go off in a different direction."
First broadcast on BBC Radio 4's Today programme on Wednesday 27 November 2013.