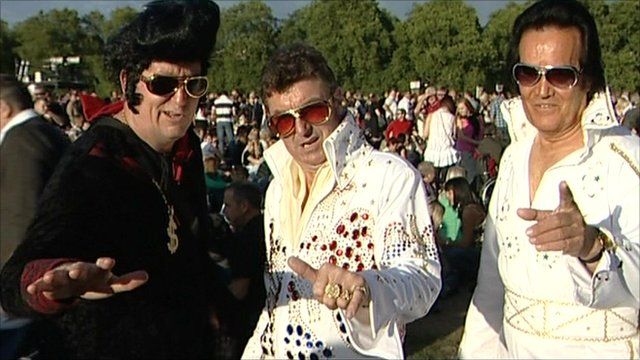 Video
Elvis fans pay tribute to 'the King' at BBC concert
Elvis fans from across the UK paid tribute to The King at a concert in London's Hyde Park on Sunday, in the year he would have turned 75.
BBC Radio 2 DJ Chris Evans hosted the Elvis Forever event, during which fans were treated to some of his best loved songs by artists such as Tom Jones, Craig David and Suzi Quatro.
Priscilla Presley also made an appearance, thanking the British fans who never managed to see their idol play in the UK.
But the evening belonged to the fans, some of whom paid homage in their own way.
But why do so many try to emulate their idol and what makes a fitting tribute? Is it the costume, the hair, the voice?
Some of the crowd at the concert offered BBC News their tips on what it takes to make a good Elvis.
Go to next video: Graceland vigil to remember Elvis