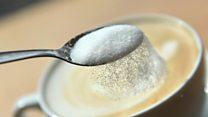 Video
Gastrophysics: The science of the spoon
It has been around in its current form since the 1760s, but have you ever thought about how the spoon could be improved?
A new field of study known as 'gastrophyics' combines food, design, science and psychology to enhance our experience of eating, starting with our kitchen utensils.
Kate Silver reports.
Go to next video: UK's first MSc gastronomy study