United Spirits shares hit after court decision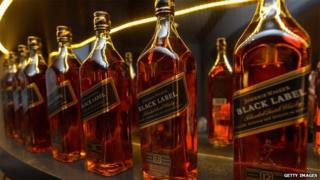 Shares in India's United Spirits fell 6% on Monday after a court annulled a deal which would have given a controlling stake to Britain's Diageo.
The Indian court made the ruling on Friday in response to a petition by creditors involved with the transaction.
London-based Diageo has been attempting to raise its stake in India's growing drinks market.
United Spirits has around 140 liquor brands, including whisky and vodka.
In November 2012, Diageo said it was buying a majority stake in United Spirits for £1.28bn ($2.09bn).
The deal would have seen Diageo get a 53.4% share in United Spirits, which is owned by Indian billionaire Vijay Mallya.
Diageo and United Breweries Holdings Limited (UBHL), the firm which sold its shares in United Spirits to the UK liquor giant, said they planned to appeal the decision.
Without the transaction Diageo's stake in United Spirits would be 19%.
One analyst said there is still a good chance that the deal will go through.
"This court order can cause only minor hiccups in the deal," said Deven Choksey, managing director at KR Choksey Securities.
Creditors' petition
The deal has been caught up in a separate legal battle over India's Kingfisher Airlines.
Both Kingfisher and UBHL, which sold a 7% stake in United Spirits to Diageo five months ago, are part of Mr Mallya's business empire.
Kingfisher Airlines has been grounded since 2012 and is unable to pay off its loans.
UBHL became a guarantor for its debts.
Kingfisher creditors who are trying to get their money back petitioned for the deal between United Spirits and Diageo to be stopped.
However following the court's verdict, Mr Mallya said in a statement: "We will take all necessary steps to protect Diageo's interests as well as our own."