Tesla shares hit by battery shortage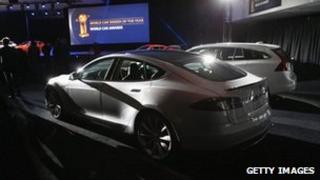 Tesla shares plunged 14% to $151.1 after its chief executive said battery shortages were hampering production.
Elon Musk said the shortage is likely to continue until next year when a new deal with supplier Panasonic starts.
It has been a volatile year so far for Tesla's shares. They soared 400% to hit a record high in September, but have fallen more than 20% since then.
On Tuesday, the firm reported its latest quarterly earnings which fell short of market expectations.
The company said it made a net loss of $38m in the July-to-September period. Even though the loss narrowed from a year ago, investors seemed worried over the company's short term prospects.
Those concerns were prompted after Mr Musk said the firm had been struggling to ramp up production.
"We really are production-constrained, not demand-constrained," Mr Musk had told reporters after the earnings release.
"It doesn't make sense to do things to amplify demand if we can't meet that demand with production."
'Scratching the surface'
Tesla said it sold 5,500 of its model S cars during the period. It had forecast deliveries of just under 6,000 cars during the current quarter.
Both figures were less than industry observers had been forecasting.
However, some analysts said the model continues to remain popular with customers and the firm is likely to see further growth in sales once it can resolve its production issues.
Elaine Kwei, an analyst with Jefferies, said the July-September period had been "another quarter of remarkable progress since volume deliveries of the Model S began one year ago".'
"With a technology advantage, desirable and differentiated products, and proven execution, we think we're only scratching the surface of things to come," she added.
The company is also preparing to introduce its Model X crossover in the coming months and a low-cost electric car over the next few years.
But some analysts were sceptical over the success of a low-cost electric vehicle.
"The market has shown no appetite, in our opinion, for such a product," said James Albertine, an analyst with Stifel.