Sexual predator John Cronin's case to be investigated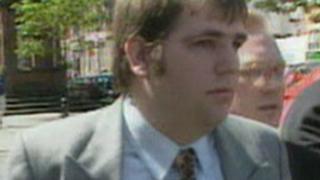 An MP has been promised government action to deal with notorious sex offender John Cronin.
Cronin, from Tranent, East Lothian, who often posed as a Catholic priest, recently returned to Scotland after his release from prison in Northern Ireland.
The 41-year-old has committed more than 50 offences, including serious sex offences, dishonesty and fraud.
The offences were committed in Scotland, Ireland and Birmingham.
He does not appear on the sex offenders register because his sex crimes took place before it was introduced.
But now Scots-born MP Steve McCabe, Birmingham Selly Oak, has urged Justice Minister Chris Grayling to take action.
Dangerous man
He has asked the minister to "look urgently" at the case and told the House of Commons that Cronin was a "sexual predator".
He said: "He has now been released on licence, broken the terms of that licence and apparently not been returned to jail and can't be put on the sex offenders' register. This is a very dangerous man."
Until recently Cronin was living at an address believed to be his elderly parents' home in Tranent.
Police Scotland said he had been moved from there last month and his current whereabouts are unknown.
But Mr McCabe, who wants a change in the law to deal with cases like Cronin's said: "If a sexual predator like this, about whom there is such concern, is in breach of his licence then why hasn't he been returned to jail?"
Cronin was first jailed for sexually assaulting a 14-year-old girl.
In 1992, he posed as a priest to get into the Edinburgh home of a female Conservative Party activist, known as Judy X. He subjected her to a brutal sexual assault, and beat her savagely.
But his life sentence was cut to six years on appeal and he served only four years, prompting his victim to condemn the sentence as "an insult".
Armed raid
Shortly after his release, he was caught dressed as a priest and trying to get into the Irish parliament.
He was jailed again in 1997 for making harassing telephone calls and threats to female politicians.
He has posed as the mayor of Birmingham, and was also jailed for an armed bank raid in Waterford, Ireland.
Since then he has been seen posing as a priest in Sligo, Galway and Donegal.
Most recently, he stole £50 from nuns who took him in at a retreat in County Antrim.
Mr Grayling has now pledged to investigate the case.