UK Coal denies looking for liquidation after mine fire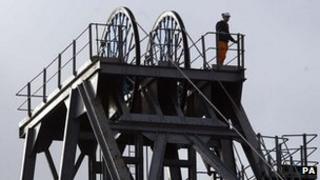 UK Coal Operations has said its business remains viable, despite claims that a fire at its Daw Mill colliery has left it with cash-flow problems.
The company was forced to close the Warwickshire mine after a fire broke out at the end of February.
The Financial Times said the firm was seeking involuntary liquidation.
UK Coal's chief executive, Kevin McCullough, told BBC News: "There has been some further unhelpful and inaccurate speculation."
Mr McCullough said the company's "main focus" had been "preserving 2,000 jobs and securing the future of UK coal mining".
"Our remaining mines have been performing well since the fire at Daw Mill and we continue to work closely with our employees, government, pension funds, the Pensions Regulator, suppliers and customers," he said.
"We remain positive that we have an underlying profitable business."
The company said that its remaining deep mines, Kellingley in Yorkshire, Thoresby in Nottinghamshire and six surface mines, remain viable and discussions continue with "a wide range of interested parties".
The report in the Financial Times (FT) newspaper claimed the closure of Daw Mill means the company is battling with day-to-day cash demands.
The FT claimed it had seen a document that revealed that the company's recent cash flow problems had led to a request to defer payment to the Inland Revenue.
The FT said the the request was turned down. HM Revenue & Customs would not confirm this.
If UK Coal Operations was to undertake voluntary liquidation or was placed into insolvency, not only would 2,000 jobs be at risk, but the value of 6,800 workers' pensions could fall as well, the FT said.
The company would not comment on the details made by the FT, but Mr McCullough acknowledged that "there will undoubtedly be some difficult decisions as we have had to look at all possible option".
"But," he continued, "there is a good business here, with 2,000 families depending on our workforce and I am confident we will be able to announce more news in the coming days."