Bee Gee Robin Gibb: Your memories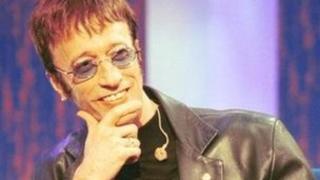 Bee Gees' singer Robin Gibb has died aged 62 after a lengthy battle with cancer, his family said.
British-born Gibb's musical career began when he formed the Bee Gees with his brothers Barry and Maurice in 1958.
The group is among the biggest-selling groups of all time with hits spanning six decades including Stayin' Alive, How Deep Is Your Love, Massachusetts and Night Fever.
The brothers were born in the Isle of Man but grew up in Manchester, later moving to Australia. Here you share your memories.
Russ Matthews, Trowbridge, England
I perform a tribute act to the Bee Gees and was introduced to Robin through my agent.
I was lucky enough to be invited along with my wife to his family home in Thame, Oxfordshire.
He was a very personable and down to earth man.
He autographed my guitar without question, asking, "Are you going to put this on eBay?". I told him I wouldn't. I didn't and I still have it and cherish it to this day.
It is a very sad day. He touched everyone who met him with his love.
The suffering is over, my thoughts are with his family. Mr Robin Gibb RIP - legend.
Ted Ranson, Merseyside, England
I was lucky to meet Barry and Robin after their concert at the Palace Ballroom, Douglas on the Isle of Man, in 1967.
After the concert my friends approached the band and asked if they wanted to come back to my parents' hotel.
Barry and Robin did come along, and we sat around, played music, talked and drank soft drinks.
We were in my attic room. Robin walked up all the stairs to the attic because he did not like going in lifts.
The girls next door realised who was in the room and they went up to the roof to try and see them through the window.
My friends and I were very lucky to be able to spend some time with them both.
Arianna Eisenberg, Los Angeles, US
My father was ill with terminal colon cancer in hospital in 1978 the height of the Bee Gees' popularity with Saturday Night Fever.
I contacted the Bee Gees' people and asked for an autographed photo, telling them the story of my father, an Englishman who loved the Bee Gees. He joked his theme song was Staying Alive.
The next day, Robin, Andy and Barry called him in hospital and spoke with him for nearly half an hour! He also got his autographed photograph.
I remember how we had them on speaker phone so everyone at the hospital could hear.
Today I am a film producer in Los Angeles and the memory of how wonderful Robin was during that phone call makes this news all the sadder.
Before ending that call Robin said to my father, "Brother, keep your spirits high. Miracles happen in all lives".
They were an amazing group of brothers with extraordinary talent. They have left quite a legacy for the rest of us.
It's very sad and ironic that Robin passed away from the same disease as my dad.
Simon Dyke, in Brisbane, Australia
Brisbane and Redcliffe in Queensland have a big connection to the Bee Gees as they lived in Australia for a while.
There's a lot of sadness and a bit of shock here in Australia at news of his death, particularly in south-eastern Queensland.
During their school days they lived at Cribb Island which is now under the international runway at Brisbane airport, they then moved to Clontarf where they featured regularly at the Redcliffe trots, a local horse racing venue.
They were also regulars on Channel Nine's afternoon TV show with Jim Iliffe in the early 1960's. They were well known here before they took off for fame and fortune. The twins will be sadly missed but lots of pleasant memories remain.
Charlie Ross, Glasgow, Scotland
When I was 10, my sister sent me up to Glasgow city centre to buy the Saturday Night Fever album for her, it was the first time I was allowed to go up town alone.
I came home and don't think she got to listen to it for weeks, I was obsessed.
Couldn't believe how good it was in 1977, and I just listened to How Deep Is Your Love and I can't believe how good it still is in 2012.
He was a wonderful songwriter and had a truly great voice. It really is sad news to hear about his death.
More of your comments
I met Robin Gibb when my school choir in the Isle of Man (King William's College) recorded with him a new version of Ellan Vannin, also known as Homecoming. He was so easy-going and chilled. Jenny, England
The first concert I ever attended was the Bee Gees back in 1977! At the Capitol centre in Washington DC. Such an awesome experience! Daphne Bonniville, Virginia, US
The first Bee Gees song I heard was I Gotta Get A Message To You with Robin Gibb singing the first verse and I was hooked to their music. The Beatles were the greatest ever but The Bee Gees were right up there with them. Mohamed Khimji, Tanzania
As teenager growing up in the late 1970s and early 80s I was not a Bee Gee fan due to their overwhelming success but my attitude changed. As I got older and I realised what a truly phenomenal group they were and how good their songs were. Nick Thompson, Singapore
I have always been a fan of the Bee Gee's and their music even if I didn't share the same last name. I wish I had 1% of the musical talent that they had. Your music will live on. Kevin C Gibb, Canada