Mitt Romney extends lead in Florida Republican primary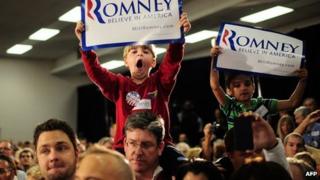 Republican presidential candidate Mitt Romney's surge ahead of rival Newt Gingrich continues in the polls, one day before Florida's primary election.
The former Massachusetts governor has an average lead of almost 12 points on the ex-House speaker in opinion polls.
The other hopefuls, Ron Paul and Rick Santorum, have abandoned campaigning in Florida, making it in effect a two-man race.
The contenders are vying to oust Barack Obama from the White House in November.
Primaries and caucuses will be held in every US state to pick a Republican candidate until the eventual winner is crowned at the party's convention in August.
'Just getting started'
Mr Gingrich scored a resounding victory in South Carolina's primary earlier this month, but his momentum has since been stymied in the face of a Romney fightback.
Both candidates are crisscrossing Florida in a final hunt for votes.
A Quinnipiac University opinion poll published on Monday found that Mr Romney had a 14-point lead over Mr Gingrich, by 43% to 29%.
"If this margin holds up tomorrow, it's hard to see where Gingrich goes from here," Quinnipiac pollster Peter Brown told Reuters news agency.
Several surveys released on Sunday gave Mr Romney a lead of between five and 16 points.
But Mr Gingrich vowed to continue his campaign in the Sunshine State and beyond, attacking Mr Romney's conservative credentials.
"On big philosophical issues, he is for all practical purposes a liberal and I am a conservative and that's what this fight is going to be about all the way to the convention," he told CBS News on Monday.
At least 1,114 delegates are needed to win the Republican nomination at the August convention. In Florida, there are 50 delegates are at stake.
"This race is just getting started," Martin Baker, Gingrich's national political director, told reporters, saying there was "a long way to go" before the nomination was decided.
Reagan's son campaigns
The former House speaker also campaigned with former President Ronald Reagan's son Michael on Monday, hoping to strengthen his campaign's ties to the revered Republican leader's legacy.
But talking to reporters on Monday, Mr Romney cast doubt on the Gingrich campaign's talk of staying in the race for the long haul.
"That's usually an indication that you think you're gonna lose," said Mr Romney. "When you say 'I'm gonna go on no matter what happens', that's usually not a good sign."
Former Pennsylvania Senator Rick Santorum left Florida over the weekend to be at the hospital bedside of his three-year-old daughter, who has a rare genetic condition.
Rather than return to Florida, he will campaign in Colorado, Minnesota, Missouri and Nevada over the next two days.
Libertarian Texas congressman Ron Paul, meanwhile, is already focusing on Nevada.
Mr Gingrich picked up the endorsement on Saturday night of former rival Herman Cain, who dropped out of the Republican race in December.
The former House speaker is portraying himself as the only viable conservative in the race.
Mr Romney has struggled to dispel misgivings among some Republicans about his political record as governor of the liberal state of Massachusetts and his Mormon faith.
In the past, Mr Romney has adopted a pro-choice stance on abortion, switched positions on gay rights and pushed through a healthcare reform in Massachusetts that was the template for President Obama's overhaul of the system nationally.
The next contest after Florida will be Nevada on Saturday.