US Supreme Court rejects Texas redistricting map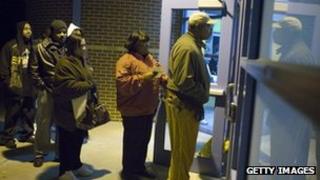 The US Supreme Court has rejected a Texas court's plan for a state voting map said to favour minorities.
It ordered a lower court to create a map more in line with one passed by the Republican-led state assembly.
The partisan dispute is over four new congressional seats established to reflect population growth in Texas.
Any change to voting rules in Texas, and 16 other states, must be federally approved because of a history of discrimination in those areas.
The case could help decide whether four seats in the US House of Representatives are won by Republicans or Democrats in November's elections.
The redistricting were prompted by the 2010 census, which found significant population growth in Texas - of more than four million new residents - most of whom were of Latino or African-American origin.
The Republican-dominated state legislature approved a plan last year which civil rights groups said denied sufficient voting power to minorities, a potential breach of the 1965 Voting Rights Act.
A court of three judges in San Antonio created a new voting map as an alternative to the state legislature's plan.
But critics of the new plan said it went too far in the other direction, overly favouring the state's new minority residents, who tend to vote Democratic.
The Supreme Court effectively agreed, saying in its 11-page opinion on Friday that the lower court had "exceeded its mission" by not taking account of the state assembly's plan.
"In the absence of any legal flaw in this respect in the state's plan, the district court had no basis to modify that plan," the Supreme Court said, referring to districts in the north and east of Texas.
The Obama administration and the Democratic Party in Texas are meanwhile disputing the state legislature's redistricting plans.
A third court in Washington DC is still reviewing whether that voting map complies with the Voting Rights Act.
State officials have said they need a plan in place by next month in order to hold primary votes, already postponed once, this April to pick candidates for November's state and congressional elections.
Texas Republicans are also concerned that if the primary is delayed again, the state will lose its chance to influence the presidential nomination process.