Kenya police tear-gas maize and fuel price protesters
7 July 2011

From the section

Africa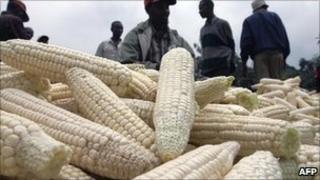 Kenyan police have fired tear gas at hundreds of protesters in the capital, Nairobi, who were demonstrating against the high prices of food and fuel.
The BBC's Robert Kiptoo in Nairobi says the crowd chanted slogans and blocked traffic in the city centre while shops closed in fear of attacks.
There is a maize shortage in East Africa because of a severe drought.
Kenya's government recently dropped tariffs on maize imports in order to curb a sharp rise in prices.
Finance Minister Uhuru Kenyatta told the BBC customs duty had also been reduced duty on kerosene and diesel.
He said the coalition government, which came to power in 2008, was also working on ways to help the vulnerable.
"We are largely targeting the drought-hit areas and focusing on the urban poor… to see how we can cushion them," he told the BBC's Focus on Africa programme.
'Irrigation plans'
Several university students and civil rights activists were arrested during the protest as the police said it was illegal because they had not sought permission for their march.
Some demonstrators read out sections of the new constitution, adopted last year, stating their right to continue the protest, our reporter says.
But their effort to reach the offices of the president and prime minister to present their grievances were thwarted by anti-riot police who used tear gas and dogs to disperse the crowd, he says.
Our reporter says the rising cost of living has angered many Kenyans.
Currently a 2kg bag of maize flour, a staple food known as "unga" in Kenya, retails at around $2 (£1.25), an amount many of the country's 40 million people cannot afford, he says.
The protesters also accuse millers of hoarding maize to raise prices.
"Even if the millers make a small profit, they should be selling a packet of unga for 30 shillings ($0.30)," one protester shouted.
An estimated 12 million people in the Horn of Africa have been hit by this year's drought - the region's worst in 60 years.
Kenya is also battling rising inflation. The value of its currency has declined sharply against the US dollar recently.
But Mr Kenyatta urged patience and understanding from Kenya's citizens.
"My message to them is that their government is doing everything within their power to deal with the situation. These are factors that are not 100 [%] attributable to the boundaries of Kenya," he said.
He acknowledged that the government was partly to blame in the past for failing to prepare for climate change.
But he said that money had recently been invested to ease the problems of drought in the future and that half a million acres (about 202,000 hectares) of land would be irrigated in the coming years.
In neighbouring Uganda, shops in the capital, Kampala, have been shut for a second day as part of a strike about their weak currency, which has raised the cost of imports.