Trials show skin cancer treatments extend life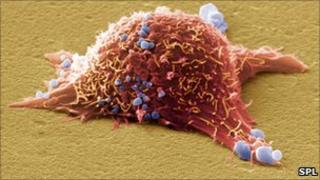 Why are many cancer specialists so excited about the results of trials of two new treatments?
One said this was "an unprecedented time of celebration for our patients". I've also seen the results described as a turning point, a breakthrough, a major advance and vitally important.
The two new medicines are Vemurafenib and Ipilimumab - both devilishly difficult names to pronounce on live TV I can assure you. The results were announced at a cancer conference in Chicago.
The Royal Marsden Hospital in London was involved in both trials. Its medical director Professor Martin Gore said he'd been waiting more than 20 years for something like this for patients with advanced malignant melanoma - whose cancer has spread from the skin to other parts of the body.
"It really is a very important step," he said. "There is a very long way to go but this is a major advance and the most significant since the introduction of chemotherapy in the 1970s."
He explained that the medicines are the first, in large-scale trials, to show an undisputed survival benefit for advanced melanoma.
Furthermore, the drugs work in different ways giving two fronts on which to fight the cancer. Vemurafenib targets a faulty gene that is carried in the cancer cells of about half of all melanoma patients.
Ipilimumab is a monoclonal antibody - which stimulates the immune system to fight the cancer. Monoclonal antibodies are used in some other cancer treatments, like herceptin, against breast cancer.
The new drugs extend life by a few months in many cases, and by years in a minority of patients.
The Royal Marsden Hospital put us in touch with one woman who was happy to tell her story. Sandra Sayce was diagnosed with melanoma a decade ago. By 2006 it had spread to her liver and lungs. She was given the choice of palliative care or the chance of going on a trial of Ipilimumab.
Five years on and she feels lucky to be alive. "It has been an amazing journey," she said. "I was so ill back then and now I have to wake up and pinch myself to know it's real."
Sandra's cancer is still in remission. It's worth pointing out that the drug had some unpleasant side-effects including a burning rash across most of her body, sickness, diarrhoea, tiredness and thinning hair. Some of these lasted several months. But she said none of was worse than the alternative.
Cost is likely to be a major issue over whether either drug ever becomes widely available on the NHS. Ipilimumab is licensed in the United States and costs £73,000 for a course of treatment. There is no price set yet for Vemurafenib and neither drug is licensed in Europe.
Nonetheless, cancer specialists are highly encouraged by these twin advances. And they are planning a further trial where patients will be given both drugs, in the hope that combination therapy will be even more effective against malignant melanoma.