Ocado aiming for £1bn valuation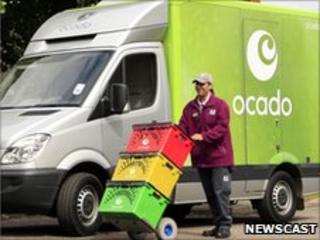 Ocado, the online service that delivers Waitrose groceries, is aiming for a valuation of more than £1bn when it floats on the London Stock Exchange.
Ocado said it would price its shares at between 200 pence and 275 pence. Taking the midpoint of the price range would give Ocado a market value of £1.18bn.
The firm hopes to raise about £200m from the share sale to build a second depot for fulfilling customer orders.
The listing is expected to earn Ocado a place in the FTSE 250 index.
Shares will be offered to institutional investors, employees and customers who have spent £300 or more in the first half of the year.
The final share price for the initial public offering (IPO) launch is set to be announced on 21 July, with trading expected to begin on 26 July.
Ocado, which was set up in 2002 by three former Goldman Sachs bankers - has never made a profit.