Experts warn over High Street mole clinics
10 July 2010

From the section

Health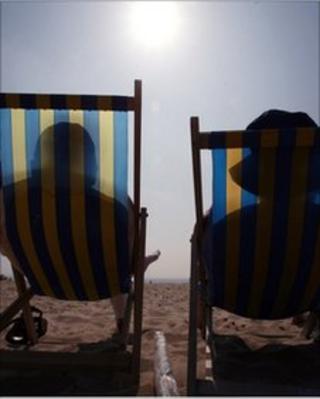 As we bask in a rare hot summer, most of us are aware of the risks to our skin.
The sunbather wrapped in tin-foil and covered with cooking oil has hopefully become a thing of the past, and the Australian mantra of 'slip, slap, slop,' - slip on a shirt, slop on sunscreen and slap on a hat - is adopted by most.
But skin cancer is still on the increase and is rising faster than for other cancers.
Danger signs
There are more than 100,000 cases of non-malignant skin cancer in the UK each year and more than 10,300 cases of malignant melanoma - the most serious kind.
But cancer experts are warning that some people might be putting themselves at risk by using High Street mole checking services, instead of going to their GP or a dermatologist.
Dr Jonathan Bowling, a consultant dermatologist at the Oxford Radcliffe Hospitals NHS Trust and the private Cadogan clinic, said patients are getting misdiagnosed. He blamed a lack of expertise.
"There seems to be a business model where they [mole-check clinics] can get people with very little training in to photograph the moles. Those photos are then either sent overseas or elsewhere in the UK for an opinion.
"This has always been a concern from the dermatology profession. We are medically trained - and experts in diagnosing skin cancer - and people without medical training are offering opinions.
"The public may potentially be misled into thinking they are having an expert opinion when they are having - and are paying for - an opinion from people without qualification."
Tighter regulations
Dr Ike Iheanacho, editor of the Drug and Therapeutics Bulletin, said there has been no evidence to prove that such clinics were as efficient as a medical expert.
"We would like to see how they compare and to see quality standards.
"Quite often you are getting people with very little training. You need someone who can interpret correctly."
NHS centres and private providers offering surgery are all overseen by the Healthcare Commission, but those private clinics offering more basic services, such as scans, do not necessarily need to be registered with the watchdog.
Dr Bowling said he had patients who had seen him after a misdiagnosis at a High Street store.
"One patient went to a High Street clinic in the south of England concerned about something on her face and was told it was highly suspicious for skin cancer and she needed surgery - but it was a completely innocent benign mole.
"Another patient who was seen by a different clinic was told everything was ok, when he had a skin cancer."
Dr Bowling said a third patient was left concerned when their High Street scanner admitted he had never seen a malignant melanoma before.
Free on NHS
He said the only way to get a top opinion was by seeing an expert, and stressed that the service is free on the NHS.
"If you are worried, go to your GP and he can refer you or, if you are still worried, you can ask to see a dermatologist.
"The convenience of these clinics is an attraction, which is important in the modern world.
"They might be convenient, but are not necessarily the right place to go."
Nina Goad, of the British Association of Dermatologists, said: "According to a recent snapshot survey we carried out, one in six people were not aware that a mole can be checked for free by a GP, instead believing this service has to be paid for."
Caroline Cerny, Cancer Research UK's SunSmart manager, said an expert view is vital.
"When skin cancer is found at an early stage, it's much easier to treat successfully. We strongly encourage anyone who notices an unusual change in their skin to visit their GP so an assessment can be made about whether referral to a dermatologist is needed. "