'Special' tram meeting voted out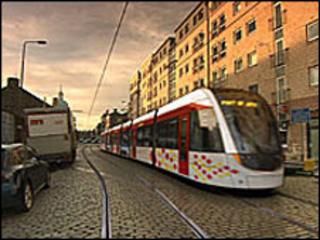 Edinburgh City Council has voted to reject demands for the capital's tram crisis to be debated at an emergency meeting of the local authority.
The project is behind schedule and over budget after a legal dispute between the company in charge of building the tram line and its main contractors.
SNP councillors had been calling for a special meeting devoted solely to the future of the project.
Tram bosses are due to give the council a finance report by mid September.
It comes after it emerged on Friday that Edinburgh City Council is drawing up plans to borrow another £55m to help fund the scheme.
It is also considering replacing current contractor Bilfinger Berger.
Richard Jeffrey, chief executive of Edinburgh Trams said: "We are very grateful for the strength of support shown today by members of the council. We are determined to reach a resolution to this dispute.
"Protecting the public purse and ensuring that we deliver the tram has been our priority throughout this lengthy and challenging period.
"We know this is very frustrating for everyone and we very much regret the disruption that this dispute has caused."
He added: "We will refresh the business case, as instructed, and provide members with the clarity on the options being considered for delivery of the full route."
Gordon Mackenzie, Edinburgh City Council's transport convener, said: "I welcome the support shown throughout the debate for the tough line that Tie is taking in the contractual negotiations.
"I believe that it's in the best interests of Edinburgh, despite our party political differences, that the overwhelming view of the council was to go forward and get the best deal for the city.
"A refreshed business case will give us all clarity on the costs and benefits that this project will bring."