Thomson's gazelle
Thomson's gazelles are found mainly in Tanzania and Kenya, and there's a small population in southern Sudan. They form herds of up to 200 individuals, but form much looser groups while migrating. Like other gazelles they perform 'stotting' or 'pronking' when alarmed by a predator. This involves jumping repeatedly with legs stiff and back curved and landing on all fours. Stotting is thought to demonstrate to the predator the amount of energy the gazelle has and thus to forestall a long chase by telling it 'I'm too athletic for you to catch'.
Watch

video clips from past programmes

(2 clips)

In order to see this content you need to have an up-to-date version of Flash installed and Javascript turned on.
Distribution
The Thomson's gazelle can be found in a number of locations including: Africa. Find out more about these places and what else lives there.
Habitats
The following habitats are found across the Thomson's gazelle distribution range. Find out more about these environments, what it takes to live there and what else inhabits them.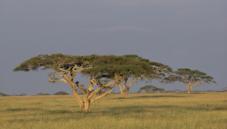 Tropical grassland
Tropical grasslands include the savanna usually associated with Africa, and savanna-type grasslands found in India, Australia, Nepal and the Americas. They are characterised by drought-resistant shrubs and grasses, dotted with trees such as acacias or baobabs.
Behaviours
Discover what these behaviours are and how different plants and animals use them.
Additional data source: Animal Diversity Web
About
The Thomson's gazelle (Eudorcas thomsonii) is one of the best-known gazelles. It is named after explorer Joseph Thomson and is sometimes referred to as a "tommie". It is considered by some to be a subspecies of the red-fronted gazelle and was formerly considered a member of the genus Gazella within the subgenus Eudorcas, before Eudorcas was elevated to genus status. Thomson's gazelles can be found in numbers exceeding 500 thousand in Africa and are recognized as the most common type of gazelle in East Africa.
This entry is from Wikipedia, the user-contributed encyclopedia. If you find the content in the 'About' section factually incorrect, defamatory or highly offensive you can edit this article at Wikipedia. For more information on our use of Wikipedia please read our FAQ.
Classification
Eudorcas
Thomson's gazelle