Termites
Termites are a highly successful group of colonial insects, with thousands of species. They build nests in trees or underground, as well as building large mounds above ground. Just like cows, many types of termite have special micro-organisms in their guts to help them digest plants.
Watch

video clips from past programmes

(5 clips)

In order to see this content you need to have an up-to-date version of Flash installed and Javascript turned on.
Fossil

types

Learn more about the other animals and plants that also form these fossils.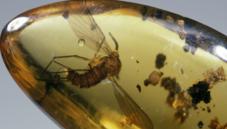 Amber
Amber owes its existence to the defence mechanisms of certain kinds of tree. When the bark is punctured or infected, a sticky resin oozes out to seal the damage and sterilise the area.