Siberian crane
Siberian cranes are the only crane species with serrated edges on their beaks. The serrations make gripping slippery prey, such as fish and frogs, much easier. Siberian cranes also eat roots, berries and seeds.
Watch

video clips from past programmes

(1 clip)

In order to see this content you need to have an up-to-date version of Flash installed and Javascript turned on.
Distribution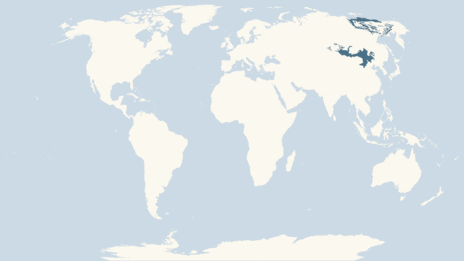 Species range provided by WWF's Wildfinder.
Habitats
The following habitats are found across the Siberian crane distribution range. Find out more about these environments, what it takes to live there and what else inhabits them.
Behaviours
Discover what these behaviours are and how different plants and animals use them.
Additional data source: Animal Diversity Web
Conservation

Status

Critically Endangered
EX

- Extinct

EW

CR

- Threatened

EN

- Threatened

VU

- Threatened

NT

LC

- Least concern
Population trend: Decreasing
Year assessed: 2009
Classified by: IUCN 3.1
About
The Siberian Crane (Leucogeranus leucogeranus), also known as the Siberian White Crane or the Snow Crane, is a bird of the family Gruidae, the cranes. They are distinctive among the cranes, adults are nearly all snowy white, except for their black primary feathers that are visible in flight and with two breeding populations in the Arctic tundra of western and eastern Russia. The eastern populations migrate during winter to China while the western population winters in Iran and formerly, in India. Among the cranes, they make the longest distance migrations. Their populations, particularly those in the western range, have declined drastically in the 20th century due to hunting along their migration routes and habitat degradation. The world population was estimated in 2010 at about 3,200 birds, mostly belonging to the eastern population with about 95% of them wintering in the Poyang lake basin in China, a habitat that may be altered by the Three Gorges Dam. In western Siberia there are only around ten of these cranes in the wild.
This entry is from Wikipedia, the user-contributed encyclopedia. If you find the content in the 'About' section factually incorrect, defamatory or highly offensive you can edit this article at Wikipedia. For more information on our use of Wikipedia please read our FAQ.
Classification
Siberian crane