Ptarmigan
Ptarmigans are possibly Britain's toughest birds and live in the cold, harsh mountains of Scotland. In snowy conditions, their feathered feet act as snow shoes, so the ptarmigan can walk even on soft snow.

Ptarmigans are masters of camouflage, changing their colour to suit the season. In winter, they are completely white except for a short black tail, while in summer a brown and yellow plumage blends the ptarmigan into the lichen covered rocks.

This wide-ranging game bird can be found in many of the world's alpine and arctic regions, and they are the only birds in Britain to turn completely white.
Watch

video clips from past programmes

(5 clips)

In order to see this content you need to have an up-to-date version of Flash installed and Javascript turned on.
Distribution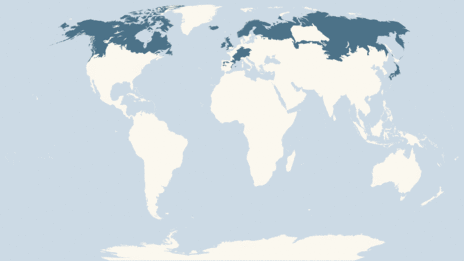 Species range provided by WWF's Wildfinder.
Habitats
The following habitats are found across the Ptarmigan distribution range. Find out more about these environments, what it takes to live there and what else inhabits them.
Behaviours
Discover what these behaviours are and how different plants and animals use them.
Additional data source: Animal Diversity Web
Conservation

Status

Least Concern
EX

- Extinct

EW

CR

- Threatened

EN

- Threatened

VU

- Threatened

NT

LC

- Least concern
About
The Rock Ptarmigan (Lagopus muta) is a medium-sized gamebird in the grouse family. It is known simply as Ptarmigan in UK English and colloquially as Snow Chicken or Partridge in North America, where it is the official bird for the territory of Nunavut, Canada, and the official game bird for the province of Newfoundland and Labrador, Canada.
This entry is from Wikipedia, the user-contributed encyclopedia. If you find the content in the 'About' section factually incorrect, defamatory or highly offensive you can edit this article at Wikipedia. For more information on our use of Wikipedia please read our FAQ.
Classification
Lagopus
Ptarmigan
BBC News about Ptarmigan
Southerly ptarmigan decline fears A National Trust for Scotland (NTS) survey failed to find any ptarmigan on Goatfell and the Arran mountains - its most southerly outpost. This has prompted fears that the bird is no longer breeding there.
Video collections
Take a trip through the natural world with our themed collections of video clips from the natural history archive.
Elsewhere on the BBC