Habitats
The following habitats are found across the Modern conifers distribution range. Find out more about these environments, what it takes to live there and what else inhabits them.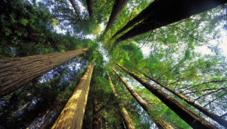 Coniferous forest
The coniferous forests of temperate regions undergo warm summers and cool winters, unlike their tropical counterparts. The species aren't exclusively conifers, there are usually a few broadleaf varieties too.
About
The order Pinales in the division Pinophyta, class Pinopsida comprises all the extant conifers. This order was formerly known as the Coniferales.
The distinguishing characteristic is the reproductive structure known as a cone produced by all Pinales. All of the extant conifers, such as cedar, celery-pine, cypress, fir, juniper, larch, pine, redwood, spruce, and yew are included here. Some fossil conifers, however, belong to other distinct orders within the division Pinophyta.
The yews have previously been separated into a distinct order of their own (Taxales), but genetic evidence indicates yews are monophyletic with other conifers and they are now included in the Pinales. However, the evidence for these facts is vague, therefore it was probably a controversy over time.
The families included are Araucariaceae, Cephalotaxaceae, Cupressaceae, Pinaceae, Podocarpaceae, Sciadopityaceae, and Taxaceae.
This entry is from Wikipedia, the user-contributed encyclopedia. If you find the content in the 'About' section factually incorrect, defamatory or highly offensive you can edit this article at Wikipedia. For more information on our use of Wikipedia please read our FAQ.