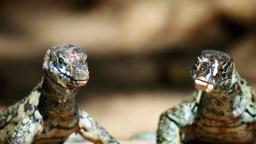 Monitor lizards have forked tongues, which they use (as a snake does) to detect scents in the air. Many of them are good swimmers and this family includes the largest lizard on Earth, the Komodo dragon.
Watch all 3 videos
Left
play

The goannas that give Lizard Island its name are adaptable hunters.

play

Termites discover lace monitor lizard eggs residing in their home.

play

Perenties are the endurance hunters of the lizard world.
Right