Lesser flamingo
Lesser flamingos are the smallest and most common of the flamingos. They live for the most part in East Africa, but can be found as far afield as Spain and Afghanistan.
Watch

video clips from past programmes

(6 clips)

In order to see this content you need to have an up-to-date version of Flash installed and Javascript turned on.
Distribution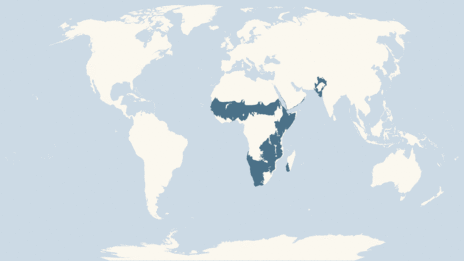 Species range provided by WWF's Wildfinder.
Habitats
The following habitats are found across the Lesser flamingo distribution range. Find out more about these environments, what it takes to live there and what else inhabits them.
Behaviours
Discover what these behaviours are and how different plants and animals use them.
Additional data source: Animal Diversity Web
Conservation

Status

Near Threatened
EX

- Extinct

EW

CR

- Threatened

EN

- Threatened

VU

- Threatened

NT

LC

- Least concern
Classification
Phoenicopteriformes
Phoenicopteridae
Lesser flamingo
Video collections
Take a trip through the natural world with our themed collections of video clips from the natural history archive.
Some of the most memorable sequences in natural history result from timelapse photography, an astonishing filming technique that opens our eyes to a whole new world.

Sir David Attenborough's Africa series took over four years to make and has brought us eye to eye with the continent's incredible wildlife in spectacular ways.

In autumn 2009, a major new series brought us life as we've never seen it before.
Elsewhere on the BBC