Habitats
The following habitats are found across the Inland taipan distribution range. Find out more about these environments, what it takes to live there and what else inhabits them.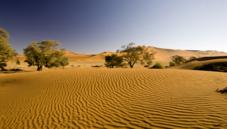 Desert
Desert and dry scrubland describes any area that receives less than 250mm of rainfall a year. Not just the endless, baking sand dunes of popular conception, it includes arid areas in temperate regions.
About
The inland taipan (Oxyuranus microlepidotus), also commonly known as the western taipan, the small-scaled snake, or the fierce snake, is a highly venomous snake of the taipan (Oxyuranus) genus, and is endemic to semi-arid regions of central east Australia.Aboriginal Australians living in those regions named the snake Dandarabilla. It was first described by Frederick McCoy in 1879 and then by William John Macleay in 1882, but for the next 90 years, it was a mystery species to Western Science. No more specimens were found, and virtually nothing was added to knowledge of this species until its rediscovery in 1972.
Its venom, drop for drop, is by far the most toxic of any snake in the world – much more so than even sea snakes. Unlike most snakes, the inland taipan is a specialist mammal hunter so its venom is specially adapted to kill warm-blooded species. It is estimated that one bite possesses enough lethality to kill at least 100 full grown men, and, depending on the nature of the bite, can kill someone in as little as 30 to 45 minutes if left untreated. It is an extremely fast and agile snake which can strike instantly with extreme accuracy, often snapping its jaws fiercely several times to inflict multiple punctures in the same attack.
Although highly venomous and a capable striker, contrary to the rather aggressive naturedcoastal taipan, the inland taipan is usually quite a shy and reclusive snake, with a placid disposition, and prefers to escape from trouble. However, it will defend itself and strike if provoked, mishandled, or prevented from escaping. Also because it lives in such remote locations, the inland taipan seldom comes in contact with people; therefore it is not considered the most deadly snake in the world overall, especially in terms of disposition and human deaths per year. The word "fierce" from its alternative name describes its venom, not its temperament.
This entry is from Wikipedia, the user-contributed encyclopedia. If you find the content in the 'About' section factually incorrect, defamatory or highly offensive you can edit this article at Wikipedia. For more information on our use of Wikipedia please read our FAQ.