Bactrian camel
Bactrian camels are well equipped with two humps, both of which store large amounts of fat to see them through lean times. They inhabit arid regions and are found along rivers in Siberia during winter, dispersing into the desert when the snow melts in spring. They prefer a diet of plants, but when such nutrient sources are not available these highly adaptable animals will feed on bones, and in extreme conditions may eat rope, sandals and even tents!
Watch

video clips from past programmes

(2 clips)

In order to see this content you need to have an up-to-date version of Flash installed and Javascript turned on.
Distribution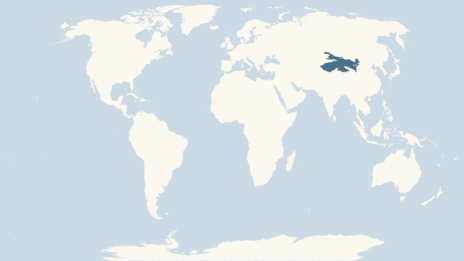 Species range provided by WWF's Wildfinder.
Habitats
The following habitats are found across the Bactrian camel distribution range. Find out more about these environments, what it takes to live there and what else inhabits them.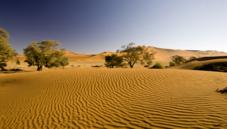 Desert
Desert and dry scrubland describes any area that receives less than 250mm of rainfall a year. Not just the endless, baking sand dunes of popular conception, it includes arid areas in temperate regions.
Behaviours
Discover what these behaviours are and how different plants and animals use them.
Additional data source: Animal Diversity Web
Conservation

Status

Critically Endangered
EX

- Extinct

EW

CR

- Threatened

EN

- Threatened

VU

- Threatened

NT

LC

- Least concern
About
The Bactrian camel (Camelus bactrianus) is a large, even-toed ungulate native to the steppes of central Asia. Of the two species of camel, it is by far the rarer. The Bactrian camel has two humps on its back, in contrast to the single-humped dromedary camel. Its population of two million exists mainly in the domesticated form. Some authorities, notably the International Union for Conservation of Nature (IUCN), use the binomial name Camelus ferus for the wild Bactrian camel and reserve Camelus bactrianus for the domesticated Bactrian camel.
The domesticated Bactrian camel has served as a pack animal in inner Asia since ancient times. With its tolerance for cold, drought, and high altitudes, it enabled travel such as the caravans of the Silk Road. The wild form has dwindled to a population estimated at 800 in October 2002 and has been classified as critically endangered on the IUCN Red List of Threatened Species. Its range in the wild is restricted to remote regions of the Gobi and Taklamakan Deserts of Mongolia and China, migrating from the desert to rivers in Siberia during winter. A small number of wild Bactrian camels still roam the Mangystau Province of southwest Kazakhstan and the Kashmir valley in Pakistan and India.
This entry is from Wikipedia, the user-contributed encyclopedia. If you find the content in the 'About' section factually incorrect, defamatory or highly offensive you can edit this article at Wikipedia. For more information on our use of Wikipedia please read our FAQ.
Classification
Bactrian camel
BBC News about Bactrian camel
Video collections
Take a trip through the natural world with our themed collections of video clips from the natural history archive.