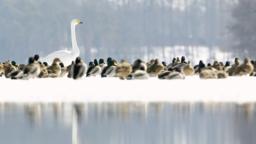 Members of the duck, goose and swan family are found on every continent except Antarctica. Many species in this family are herbivorous and they are adapted for swimming on water, and in some cases diving in it.
Watch all 3 videos
Left
play

Eider ducks take their ducklings to water as soon as they hatch.

play

Chicks start communicating before they've even left the egg.

play

Ducks are an integral part of growing up in the UK, and often our first dabble with nature.
Right