American bison
American bison are the largest land mammals in North America. Massive herds once roamed far and wide across the grasslands and savannas of north America, from Alaska all the way down to Mexico. Nowadays, herds are largely restricted to reserves and parks. Despite the bison's poor eyesight, danger is still detected well in advance, because they have excellent senses of hearing and smell. However, the formidable size and defences of the adults also keep them very safe. Bison calves are capable of walking and even running hours after being born.

Did you know?
American bison are the largest land mammals in North America.

Watch

video clips from past programmes

(6 clips)

In order to see this content you need to have an up-to-date version of Flash installed and Javascript turned on.
Distribution
The American bison can be found in a number of locations including: North America. Find out more about these places and what else lives there.
Habitats
The following habitats are found across the American bison distribution range. Find out more about these environments, what it takes to live there and what else inhabits them.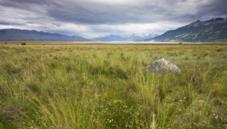 Temperate grassland
Temperate grasslands include the prairies of North America, the steppes of Russia and the pampas of Argentina. Summers here are mild to hot and the winters can sometimes be very cold – for instance, blizzards can blanket the great plains of the United States.
Behaviours
Discover what these behaviours are and how different plants and animals use them.
Additional data source: Animal Diversity Web
Conservation

Status

Near Threatened
EX

- Extinct

EW

CR

- Threatened

EN

- Threatened

VU

- Threatened

NT

LC

- Least concern
Population trend: Stable
Year assessed: 2008
Classified by: IUCN 3.1
About
The American bison (Bison bison), also commonly known as the American buffalo, is a North American species of bison that once roamed the grasslands of North America in massive herds, became nearly extinct by a combination of commercial hunting and slaughter in the 19th century and introduction of bovine diseases from domestic cattle, and has made a recent resurgence largely restricted to a few national parks and reserves. Their historical range roughly comprised a triangle between the Great Bear Lake in Canada's far northwest, south to the Mexican states of Durango and Nuevo León, and east to the Atlantic Seaboard of the United States (nearly to the Atlantic tidewater in some areas) from New York to Georgia and per some sources down to Florida.
Two subspecies or ecotypes have been described: the plains bison (Bison bison bison), smaller in size and with a more rounded hump, and the wood bison (Bison bison athabascae)—the larger of the two and having a taller, square hump. Furthermore, it has been suggested that the plains bison consists of a northern (Bison bison montanae) and a southern subspecies, bringing the total to three. However, this is generally not supported. The wood bison is one of the largest wild species of bovid in the world, surpassed by only the Asian gaur and wild Asian water buffalo. It is the largest extant land animal in North America.
This entry is from Wikipedia, the user-contributed encyclopedia. If you find the content in the 'About' section factually incorrect, defamatory or highly offensive you can edit this article at Wikipedia. For more information on our use of Wikipedia please read our FAQ.
Classification
Bison
American bison
BBC News about American bison
Farmed bison herd set to expand Scotland's first commercial herd of American bison is going into production, with the first two beasts from a farm near Stonehaven being culled.
Video collections
Take a trip through the natural world with our themed collections of video clips from the natural history archive.
Elsewhere on the BBC