Permian period
The Permian started with an ice age and ended with the most devastating mass extinction the Earth has ever experienced. In fact, at least two mass extinctions occurred during this time. It's also when all the continents of the world finally coalesced into one supercontinent, named Pangaea (meaning 'the entire Earth'). As the globe warmed up and the ice retreated, many areas of Pangaea became very arid. The oxygen level plummeted too, from a high of 35% of the total atmosphere to around 15%. For comparison, today's oxygen content is 21%.
Watch

video clips from past programmes

(6 clips)

In order to see this content you need to have an up-to-date version of Flash installed and Javascript turned on.
What the Earth was like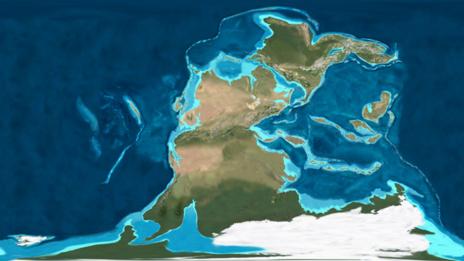 Reconstruction of the Earth in the Permian period, 290 million - 248 million years ago. Credit: Dr Ron Blakey, NAU Geology.
What

lived then
Merostomata
Causes

of extinctions

During this period the following events are thought to have contributed to the Permian mass extinction.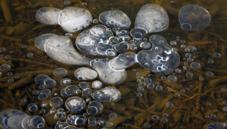 Catastrophic methane release
Catastrophic methane release has been suggested as a possible cause of mass extinction. Methane clathrate is an ice-like substance formed from water and methane in the sea bed, arctic lakes and permafrost.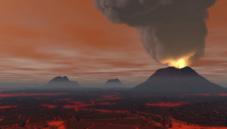 Flood basalt eruptions
Flood basalt eruptions are a type of large-scale volcanic activity, both in terms of extent and duration, that can occur on land or on the ocean floor. A flood basalt may continue to erupt for tens of thousands - possibly millions - of years and the lava can cover hundreds of thousands of kilometres.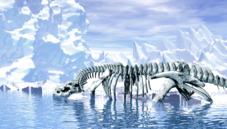 Climate change
Earth's climate is not constant. Over geological time, the Earth's dominant climate has gone from ice age to tropical heat and from steamy jungles to searing deserts.
About
The Permian is a geologic period and system which extends from 298.9 ± 0.2 to 252.2 ± 0.5 (Million years ago). It is the last period of the Paleozoic Era, following the Carboniferous Period and preceding the Triassic Period of the Mesozoic Era. It was first introduced in 1841 by geologist Sir Roderick Murchison, and is named after the ancient kingdom of Permia.
The Permian witnessed the diversification of the early amniotes into the ancestral groups of the mammals, turtles, lepidosaurs and archosaurs. The world at the time was dominated by a single supercontinent known as Pangaea, surrounded by a global ocean called Panthalassa. The extensive rainforests of the Carboniferous had disappeared, leaving behind vast regions of arid desert within the continental interior. Reptiles, who could better cope with these drier conditions, rose to dominance in lieu of their amphibian ancestors. The Permian Period (along with the Paleozoic Era) ended with the largest mass extinction in Earth's history, in which nearly 90% of marine species and 70% of terrestrial species died out. It would take well into the Triassic for life to recover from this catastrophe.
This entry is from Wikipedia, the user-contributed encyclopedia. If you find the content in the 'About' section factually incorrect, defamatory or highly offensive you can edit this article at Wikipedia. For more information on our use of Wikipedia please read our FAQ.
Geological time
Origin of the Earth 4.6 billion years ago
Permian period
Present day