Cryogenian period
A succession of incredibly harsh ice ages waxed and waned during the Cryogenian. It is nicknamed Snowball Earth as it's been suggested that the glaciation was so severe it may even have reached the equator. Life during the Cryogenian consisted of tiny organisms - the microscopic ancestors of fungi, plants, animals and kelps all evolved during this time.
Watch

video clips from past programmes

(3 clips)

In order to see this content you need to have an up-to-date version of Flash installed and Javascript turned on.
Causes

of extinctions

During this period the following extinction level events are thought to have occurred.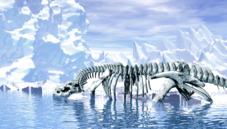 Climate change
Earth's climate is not constant. Over geological time, the Earth's dominant climate has gone from ice age to tropical heat and from steamy jungles to searing deserts.
About
The Cryogenian (from Greek cryos "cold" and genesis "birth") is a geologic period that lasted from 850 to 635 million years ago. It forms the second geologic period of the Neoproterozoic Era, preceded by the Tonian Period and followed by the Ediacaran.
The Sturtian and Marinoan glaciations, which are the greatest ice ages known to have occurred on Earth, occurred during this period. These events are the subject of much scientific controversy.
The main debate contests whether these glaciations covered the entire planet (the so-called 'Snowball Earth') or if a band of open sea survived near the equator (termed 'slushball Earth').
This entry is from Wikipedia, the user-contributed encyclopedia. If you find the content in the 'About' section factually incorrect, defamatory or highly offensive you can edit this article at Wikipedia. For more information on our use of Wikipedia please read our FAQ.
Geological time
Origin of the Earth 4.6 billion years ago
Cryogenian period
Present day
BBC News about Cryogenian period