Tundra
Tundra is the cold, treeless region around the poles that has permafrost as one of its defining features. Even at the height of summer, the soil a few centimetres under the surface remains frozen. The tundra therefore lacks animals that dig deep burrows and plants that require deep root systems. The permafrost, plus the short summer and seasonal waterlogging, also explains why trees don't grow here.
Watch

video clips from past programmes

(13 clips)

In order to see this content you need to have an up-to-date version of Flash installed and Javascript turned on.
Where

you find Tundra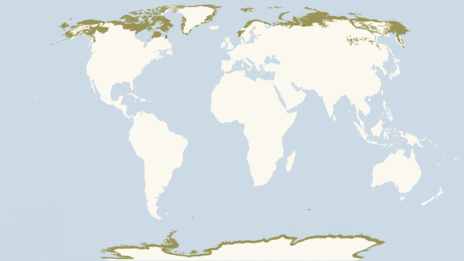 About

Tundra

In physical geography, a tundra is a biome where the tree growth is hindered by low temperatures and short growing seasons. The term tundra comes through Russian тундра from the Kildin Sami word tūndâr "uplands", "treeless mountain tract". There are three types of tundra: arctic tundra,alpine tundra, and antarctic tundra. In a tundra, the vegetation is composed of dwarf shrubs, sedges and grasses, mosses, and lichens. Scattered trees grow in some tundras. The ecotone (or ecological boundary region) between the tundra and the forest is known as the tree line or timberline.

This entry is from Wikipedia, the user-contributed encyclopedia. If you find the content in the 'About' section factually incorrect, defamatory or highly offensive you can edit this article at Wikipedia. For more information on our use of Wikipedia please read our FAQ.
Video collections
Take a trip through the natural world with our themed collections of video clips from the natural history archive.