Tropical grassland
Tropical grasslands include the savanna usually associated with Africa, and savanna-type grasslands found in India, Australia, Nepal and the Americas. They are characterised by drought-resistant shrubs and grasses, dotted with trees such as acacias or baobabs. Seasons here are wet and dry, rather than summer and winter. The plentiful food that springs into life in the wet season draws and supports huge herds of grazing animals, such as the familiar mega-herds of African antelope.
Watch

video clips from past programmes

(7 clips)

In order to see this content you need to have an up-to-date version of Flash installed and Javascript turned on.
Where

you find Tropical grassland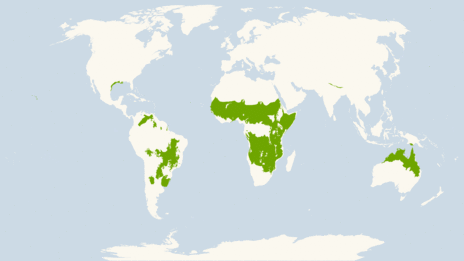 About

Tropical grassland

Tropical and subtropical grasslands, savannas, and shrublands are a grassland terrestrial biome located in semi-arid to semi-humid climate regions of subtropical and tropical latitudes.

This entry is from Wikipedia, the user-contributed encyclopedia. If you find the content in the 'About' section factually incorrect, defamatory or highly offensive you can edit this article at Wikipedia. For more information on our use of Wikipedia please read our FAQ.
Ecozones
Ecozones where this habitat is found
Habitats
Other Terrestrial habitats
Video collections
Take a trip through the natural world with our themed collections of video clips from the natural history archive.
Some of the most memorable sequences in natural history result from timelapse photography, an astonishing filming technique that opens our eyes to a whole new world.

Sir David Attenborough's Africa series took over four years to make and has brought us eye to eye with the continent's incredible wildlife in spectacular ways.

Jonathan Scott's unique style brings an emotional warmth and depth to the portrayal of African wildlife that has created some of TV's best-loved animal characters.
Elsewhere on the BBC