Tropical coniferous forest
Tropical coniferous forests may sound like an odd concept to northern Europeans who associate conifers with cooler northern climes. However, their ability to conserve moisture is the perfect adaptation for certain areas of the tropics and subtropics where conditions are drier year round. Parts of Asia and Central and North America have such conditions, with some of the most diverse examples of this kind of forest found in Mexico.
Watch

video clips from past programmes

(1 clip)

In order to see this content you need to have an up-to-date version of Flash installed and Javascript turned on.
Where

you find Tropical coniferous forest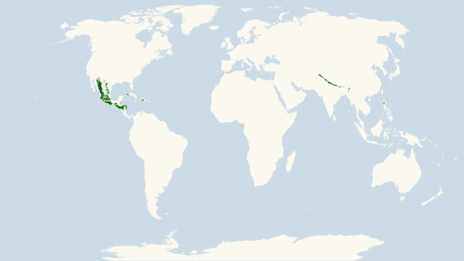 About

Tropical coniferous forest

Tropical and subtropical coniferous forests are a forest biome. They are located in regions of semi-humid climate at tropical and subtropical latitudes. Most tropical and subtropical coniferous forest ecoregions are found in the Nearctic and Neotropic ecozones, from Mexico to Nicaragua and on the Greater Antilles, Bahamas, and Bermuda. Other tropical and subtropical coniferous forests ecoregions occur in Asia.

This entry is from Wikipedia, the user-contributed encyclopedia. If you find the content in the 'About' section factually incorrect, defamatory or highly offensive you can edit this article at Wikipedia. For more information on our use of Wikipedia please read our FAQ.