Rockpools
Rockpools are particularly challenging and harsh environments. They are a unique habitat, but only at low tide, when they are filled with salty sea water. They are found at all levels of the rocky shore in the areas between the high and low tide marks. Plants and animals that live here must be able to cope with constantly changing conditions as water temperature, salinity and oxygen level fluctuate. Coping with all this, and with crashing waves, in addition to avoiding predators is no easy task. Yet rockpools can be very biodiverse, teeming with molluscs, shrimps and crabs, fish and anemones.
Watch

video clips from past programmes

(5 clips)

In order to see this content you need to have an up-to-date version of Flash installed and Javascript turned on.
Where

you find Rockpools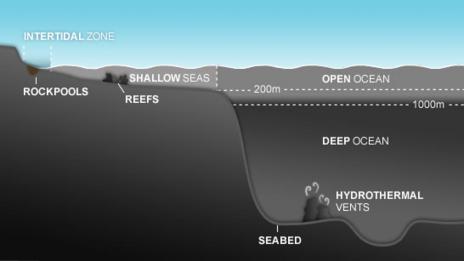 About

Rockpools

Tide pools, or rock pools, are rocky pools on the sea shore which are filled with seawater. Many of these pools exist as separate pools only at low tide.

Many tide pools are habitats of especially adaptable animals that have engaged the attention of naturalists and marine biologists, as well as philosophical essayists: John Steinbeck wrote in The Log from the Sea of Cortez, "It is advisable to look from the tide pool to the stars and then back to the tide pool again."

This entry is from Wikipedia, the user-contributed encyclopedia. If you find the content in the 'About' section factually incorrect, defamatory or highly offensive you can edit this article at Wikipedia. For more information on our use of Wikipedia please read our FAQ.
Video collections
Take a trip through the natural world with our themed collections of video clips from the natural history archive.
Elsewhere on the BBC