Broadleaf forest
Broadleaf forests are the dominant habitat of the UK and most of temperate northern Europe. There's little left of Britain's ancient wildwood, but isolated pockets of oak, beech and mixed deciduous and evergreen woodlands are scattered across the continent, and dictate its biodiversity. These forests are most diverse in the eastern areas of North America and in China. Unlike many forests, plentiful immature trees and undergrowth means most life is on the forest floor.

Take a wild walk in an ancient woodland.

Watch

video clips from past programmes

(34 clips)

In order to see this content you need to have an up-to-date version of Flash installed and Javascript turned on.
Where

you find Broadleaf forest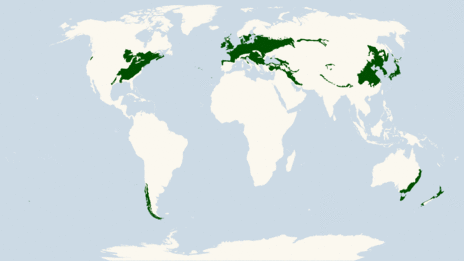 About

Broadleaf forest

Mixed forests are a temperate and humid biome. The typical structure of these forests includes four layers. The uppermost layer is the canopy composed of tall mature trees ranging from 33 to 66 m (100 to 200 feet) high. Below the canopy is the three-layered, shade-tolerant understory that is roughly 9 to 15 m (30 to 50 feet) shorter than the canopy. The top layer of the understory is the sub-canopy which is composed of smaller mature trees, saplings, and suppressed juvenile canopy layer trees awaiting an opening in the canopy. Below the sub-canopy is the shrub layer, composed of low growing woody plants. Typically the lowest growing (and most diverse) layer is the ground cover or herbaceous layer.

This entry is from Wikipedia, the user-contributed encyclopedia. If you find the content in the 'About' section factually incorrect, defamatory or highly offensive you can edit this article at Wikipedia. For more information on our use of Wikipedia please read our FAQ.
BBC News about Broadleaf forest
Video collections
Take a trip through the natural world with our themed collections of video clips from the natural history archive.
Some of the most memorable sequences in natural history result from timelapse photography, an astonishing filming technique that opens our eyes to a whole new world.

Narrated by Sir David Attenborough Planet Earth was the ground-breaking series that explored the wild and beautiful parts of our planet like never before.

Autumn - a time of great change, of breathtaking migrations, of high drama.
Elsewhere on the BBC