Swamp
Swamps are wetland areas where water totally or partially submerges the vegetation, for part or most of the year. Swamp waters flow very slowly, and there are often reed beds or sedges growing at their margins. Any raised areas within a swamp, are likely to be drier and may therefore have trees growing on them. Swamps include the fens, the Florida Everglades and the Okavango Delta.
Watch

video clips from past programmes

(3 clips)

In order to see this content you need to have an up-to-date version of Flash installed and Javascript turned on.
Where

you find Swamp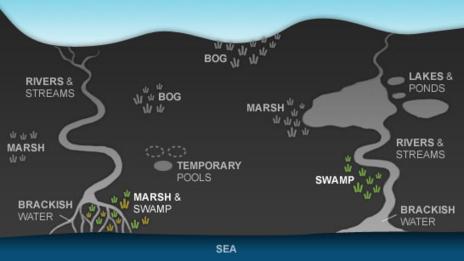 About

Swamp

A swamp is a wetland that is forested. Many swamps occur along large rivers where they are critically dependent upon natural water level fluctuations. Other swamps occur on the shores of large lakes. Some swamps have hammocks, or dry-land protrusions, covered by aquatic vegetation, or vegetation that tolerates periodic inundation. The two main types of swamp are "true" or swamp forests and "transitional" or shrub swamps. In the boreal regions of Canada, the word swamp is colloquially used for what is more correctly termed a bog or muskeg. The water of a swamp may be fresh water, brackish water or seawater. Some of the world's largest swamps are found along major rivers such as the Amazon, the Mississippi, and the Congo.

Conservationists have worked hard to preserve swamps. For example, the swamps in Northwest Indiana have been preserved as part of the Indiana Dunes.

This entry is from Wikipedia, the user-contributed encyclopedia. If you find the content in the 'About' section factually incorrect, defamatory or highly offensive you can edit this article at Wikipedia. For more information on our use of Wikipedia please read our FAQ.