Reefs
Reefs have existed since at least the Cambrian, although the familiar coral-dominated, reefs of today are a much later arrival. A coral reef is much more than old rock lying on the sea bed. An intricate structure, complex set of relationships and distinct zones (reef top, reef sides, debris piles around the base) offer myriad places for animals to live and hide, which leads to incredible diversity.

Did you know?
Australia's Great Barrier Reef is larger than the Great Wall of China and is visible from space.

Watch

video clips from past programmes

(19 clips)

In order to see this content you need to have an up-to-date version of Flash installed and Javascript turned on.
Where

you find Reefs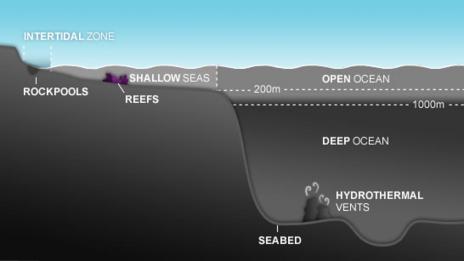 About

Reefs

A reef is a rock, sandbar, or other feature lying beneath the surface of the water (80 meters or less beneath low water).

Many reefs result from abiotic processes—deposition of sand, wave erosion planing down rock outcrops, and other natural processes—but the best-known reefs are the coral reefs of tropical waters developed through biotic processes dominated by corals and calcareous algae. Artificial reefs such as shipwrecks are sometimes created to enhance physical complexity on generally featureless sand bottoms in order to attract a diverse assemblage of organisms, especially fish.

This entry is from Wikipedia, the user-contributed encyclopedia. If you find the content in the 'About' section factually incorrect, defamatory or highly offensive you can edit this article at Wikipedia. For more information on our use of Wikipedia please read our FAQ.
Video collections
Take a trip through the natural world with our themed collections of video clips from the natural history archive.
Elsewhere on the BBC