Marsh
Marshes form where water is very close to, or above, the ground surface for part or most of the year. This results in a waterlogged environment that stays soggy even if there are no pools of standing water. Marshes are either features in their own right, or zones along the margin of a lake or a river's edge. In intertidal areas along the coast, salt marshes sometimes occur. Surprisingly, these are enormously biologically productive.
Watch

video clips from past programmes

(1 clip)

In order to see this content you need to have an up-to-date version of Flash installed and Javascript turned on.
Where

you find Marsh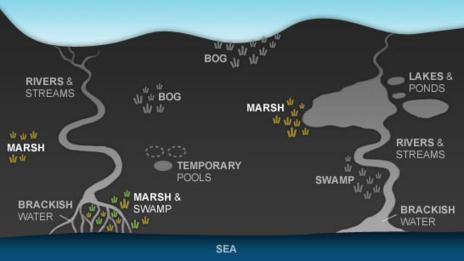 About

Marsh

A marsh is a type of wetland that is dominated by herbaceous rather than woody plant species. Marshes can often be found at the edges of lakes and streams, where they form a transition between the aquatic and terrestrial ecosystems. They are often dominated by grasses, rushes or reeds. If woody plants are present they tend to be low-growing shrubs. This form of vegetation is what differentiates marshes from other types of wetland such as swamps, which are dominated by trees, and bogs, which are wetlands that have accumulated deposits of acidic peat.

This entry is from Wikipedia, the user-contributed encyclopedia. If you find the content in the 'About' section factually incorrect, defamatory or highly offensive you can edit this article at Wikipedia. For more information on our use of Wikipedia please read our FAQ.