Desert
Desert and dry scrubland describes any area that receives less than 250mm of rainfall a year. Not just the endless, baking sand dunes of popular conception, it includes arid areas in temperate regions. Plants in this habitat are well adapted to conserving water and often have to survive extremely hot days and cold nights when the temperature plummets. Deserts may appear to have very little life in them, but a closer inspection can reveal high biodiversity.
Watch

video clips from past programmes

(28 clips)

In order to see this content you need to have an up-to-date version of Flash installed and Javascript turned on.
Where

you find Desert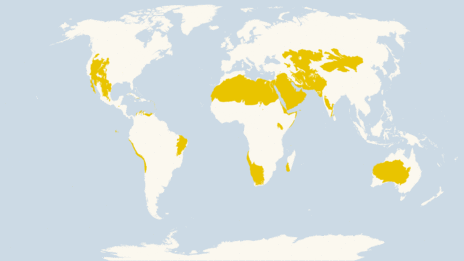 About

Desert

Deserts and xeric shrublands is a biome characterized by, relating to, or requiring only a small amount of moisture.

This entry is from Wikipedia, the user-contributed encyclopedia. If you find the content in the 'About' section factually incorrect, defamatory or highly offensive you can edit this article at Wikipedia. For more information on our use of Wikipedia please read our FAQ.
Video collections
Take a trip through the natural world with our themed collections of video clips from the natural history archive.
Elsewhere on the BBC