Snowball Earth
Snowball Earth describes a theory that for millions of years the Earth was entirely smothered in ice, stretching from the poles to the tropics. This freezing happened over 650 million years ago in the Pre-Cambrian, though it's now thought that there may have been more than one of these global glaciations. They varied in duration and extent but during a full-on snowball event, life could only cling on in ice-free refuges, or where sunlight managed to penetrate through the ice to allow photosynthesis.
Watch

video clips from past programmes

(5 clips)

In order to see this content you need to have an up-to-date version of Flash installed and Javascript turned on.
Time

period when this happened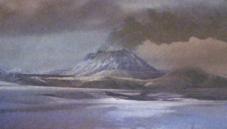 Cryogenian period
A succession of incredibly harsh ice ages waxed and waned during the Cryogenian. It is nicknamed Snowball Earth as it's been suggested that the glaciation was so severe it may even have reached the equator.
About
The Snowball Earth hypothesis posits that the Earth's surface became entirely or nearly entirely frozen at least once, some time earlier than 650 Ma (million years ago). Proponents of the hypothesis argue that it best explains sedimentary deposits generally regarded as of glacial origin at tropical paleolatitudes, and other otherwise enigmatic features in the geological record. Opponents of the hypothesis contest the implications of the geological evidence for global glaciation, the geophysical feasibility of an ice- or slush-covered ocean, and the difficulty of escaping an all-frozen condition. There are a number of unanswered questions, including whether the Earth was a full snowball, or a "slushball" with a thin equatorial band of open (or seasonally open) water.
The geological time frames under consideration come before the sudden multiplication of life forms on Earth known as the Cambrian explosion, and the most recent snowball episode may have triggered the evolution of multi-cellular life on Earth. Another, much earlier and longer, snowball episode, the Huronian glaciation, which occurred 2400 to 2100 Ma may have been triggered by the oxygen catastrophe.
This entry is from Wikipedia, the user-contributed encyclopedia. If you find the content in the 'About' section factually incorrect, defamatory or highly offensive you can edit this article at Wikipedia. For more information on our use of Wikipedia please read our FAQ.
BBC News about Snowball Earth
Elsewhere on the BBC