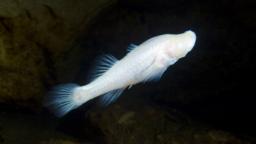 Cave dwelling, or troglophilic, animals spend their whole lives in cave systems. Living in perpetual darkness, many cave species have lost the sight that their evolutionary ancestors had and become blind. Vestigial eyes can often be seen. They're also usually pale in colour as they don't need to produce skin pigment as camouflage or protection from the sun.
Watch all 3 videos
Left
play

Curious life-forms thrive in poisonous underwater caves.

play

Fewer than 100 of these cave dwellers remain in the world.

play

One of the most highly adapted creatures on Earth, Thailand's cave angel fish.
Right