BBC Worldwide launches Walking with Dinosaurs: Photo Adventure augmented reality app in partnership with Twentieth Century Fox and creators Evergreen Studios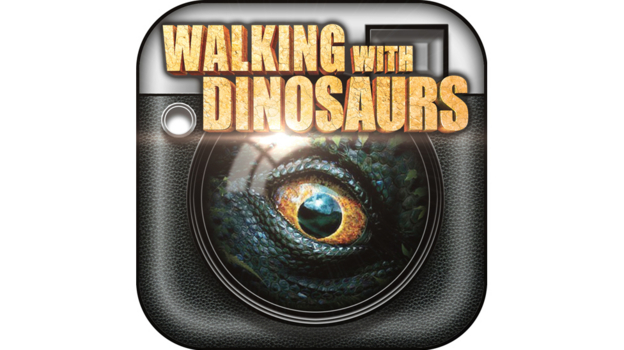 Date: 30.09.2013
Last updated: 18.03.2014 at 18.15
Bring the dinosaur stars of this December's 3D blockbuster movie Walking with Dinosaurs into your world
Click to tweet: .@BBCWpress launches Walking with Dinosaurs: Photo Adventure AR app, brings 3D dinos to your world @walkwithdinos http://bbc.in/1bl5Tgd
BBC Worldwide, in partnership with Twentieth Century Fox and creators Evergreen Studios, today announced the launch of its Walking with Dinosaurs: Photo Adventure app for iPhone, iPad, iPod touch and Android devices.  Now you can see dinosaurs stomping down the street, roaming through schools and offices, and roaring to life in your home with this new augmented reality app. 
Using the camera function of a mobile or tablet device users will be able to pose in any real world location with the stars of the 3D movie Walking with Dinosaurs, released in cinemas worldwide this Christmas.  Using state-of-the-art technology created for the movie, Walking with Dinosaurs: Photo Adventure brings the dinosaur characters to life in incredible lifelike detail with sophisticated animation, sound and graphics that show every tooth and scale.
The free to download app, available at iTunes and Google Play, awakens six dinosaur movie characters and thanks to enabled picture sharing, allows users to instantly upload their unique dinosaur posed images to Facebook and Twitter at the tap of a button in both 'Photo Booth' and 'Adventure Mode'. 
The app's Adventure Mode uses a printable target to uniquely create a virtual dinosaur habitat
on any flat surface.  Watch dinosaur rivalries play out in front of you as the beautifully animated Pachyrhinosaurus and Gorgosaurus, the 3D movie's hero and villain, spring to life and vie for territory.
 "Walking with Dinosaurs: Photo Adventure brilliantly uses augmented reality to bring the big screen stars of Walking with Dinosaurs bursting into your world thanks to a fun and creative app that allows you to come face to face with a gigantic Gorgosaurus and share the moment with your friends," said Paul Joffe, VP Digital Entertainment & Games, BBC Worldwide. 
Walking with Dinosaurs: Photo Adventure app highlights:
 Astonishing lifelike augmented reality dinosaurs, added to any real world location.
Easy to use camera features allow placing and posing virtual dinosaurs in the camera view, with options to adjust lighting and add colour to the dinosaurs.
Ability to instantly share pictures to Facebook and Twitter.

Meet the stars of Walking with Dinosaurs, including our hero-in-waiting Patchi, his tough brother Scowler, sweet Juniper, and a terrifying Gorgosaurus villain.
Facts at your fingertips about a variety of lesser-known dinosaur species.
For the first time in movie history, audiences will truly see and feel what it was like when dinosaurs ruled the Earth.  Presented by Twentieth Century Fox and Reliance Entertainment, in association with IM Global Walking with Dinosaurs, from BBC Earth Films and Evergreen Studios is the ultimate immersive, big screen adventure for families, airing in thousands of movie theatres around the globe from December 20th.  Meet dinosaurs more real than you've ever seen before, as you take off on a thrilling prehistoric adventure, where Patchi, an underdog dinosaur, triumphs against all odds to become a hero for the ages: www.walkingwithdinosaurs.com/movie/
The Walking with Dinosaurs: Photo Adventure App is available for free from the App Store on iPhone, iPad and iPod touch or at www.AppStore.com.
See the Walking with Dinosaurs App video here!  www.youtube.com/watch?v=_Hzx0MPH3Vs
For more information, please contact: 
Charlotte Scarborough
Communications Officer, Brands, Content and Digital, BBC Worldwide
Tel:      +44 (0) 20 8433 2009
Email:   charlotte.scarborough@bbc.com
Notes to Editor:
About BBC Earth Films
BBC Earth Films is the theatric wing of BBC Earth, the global factual brand for BBC Worldwide, the BBC's commercial arm.  BBC Earth Films seek to take audiences on a journey of discovery, using entertainment to bring to life the incredible wonders, stories and characters of our planet.  Combining Hollywood expertise with the BBC's world-leading film makers to create unforgettable cinema experiences for all the family, Walking with Dinosaurs is the latest production releasing this December.
About BBC Worldwide Ltd
BBC Worldwide Limited is the main commercial arm and a wholly owned subsidiary of the British Broadcasting Corporation (BBC).  BBC Worldwide exists to support the BBC public service mission and to maximise profits on its behalf.  It does this through investing in, commercialising and showcasing content from the BBC around the world, in a way that is consistent with BBC standards and values.  The business also builds the reach and reputation of the BBC brand overseas and champions British creativity.
In 2012/13, BBC Worldwide generated headline profits of £156m and headline sales of £1,116m and returned £156m to the BBC. For more detailed performance information please see our Annual Review website: http://www.bbcworldwide.com/annualreview
bbcworldwide.com
twitter.com/bbcwpress
About Twentieth Century Fox
One of the world's largest producers and distributors of motion pictures, 20th Century Fox produces, acquires and distributes motion pictures throughout the world.  These motion pictures are produced or acquired by the following units: Twentieth Century Fox, Fox 2000 Pictures, Fox Searchlight Pictures, Fox International Productions and Twentieth Century Fox Animation.  The studio also comprises 20th Century Fox Home Entertainment and 20th Century Fox Television Distribution.
About Reliance Entertainment
Reliance Entertainment (www.relianceentertainment.net) is the flagship motion picture arm of India's Reliance Group with a significant presence in filmed entertainment (film production, distribution, and exhibition). Reliance Group also has key interests in broadcasting and new media ventures. Reliance Entertainment has built an impressive film production slate in Hindi, English & other Indian languages, which it markets and distributes worldwide. Following its association with IM Global, the company now benefits from an international sales team with an excellent reputation and global presence dedicated to selling its Bollywood and regional language slate. In Hollywood, Reliance Entertainment has partnered with Steven Spielberg and Stacey Snider on the formation of DreamWorks Studios. The Reliance Group (www.relianceadagroup.com) is amongst India's top 3 business houses and has interests in telecommunications, energy, financial services, infrastructure and media and entertainment.
About IM Global
Stuart Ford founded IM GLOBAL in 2007.  The company is one of the leading film financing, sales and distribution companies in the world, championing a wide variety of cinema, including mainstream commercial, art house, foreign language and genre fare.  In May 2010, Reliance Entertainment, part of Indian conglomerate Reliance ADA Group, acquired a majority shareholding in the company. The company has offices in Los Angeles, London, Mumbai, Mexico City, and Beijing.
About Evergreen Studios
Evergreen Studios (www.evgstudios.com) brings a Silicon Valley-based ethos to Hollywood storytelling.  Using cutting edge technology to enhance the creative process, Evergreen targets and develops stories whose characters, plots, and ideas can unfold over multiple platforms.  The company then determines which medium—films, television, apps, mobile games, console games, webisodes, and comics—is best suited to a particular aspect of a world.  This allows Evergreen to tailor each immersive experience for its respective platform and retain the creative integrity of the story world.  Through this groundbreaking approach, Evergreen Studios is able to deliver story worlds of outstanding quality that resonate with audiences worldwide.   Evergreen Studios first theatrical release, Walking with Dinosaurs, will be distributed by 20th Century Fox on Dec. 20th, 2013.  Evergreen also plans to launch a new cross-platform story world in early 2014 based on the best-selling military sci-fi novels, Honor Harrington.  A comic series, game apps, and film are in development.
Search the site
Can't find what you need? Search here