BBC Worldwide Channels continues to create global TV events with Richard Hammond's Crash Course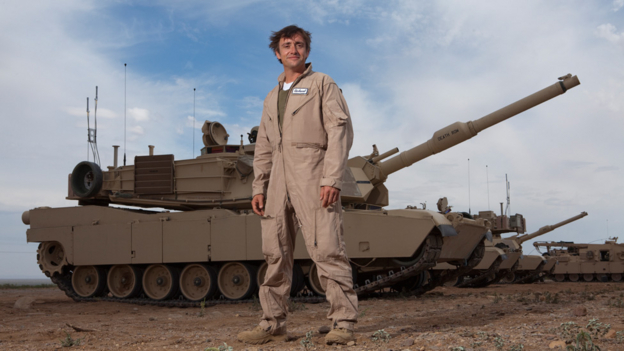 Date: 22.05.2012
Last updated: 18.03.2014 at 17.55
Series to launch globally this August
Click here to tweet: .@BBCWPress Channels launches #RichardHammond #CrashCourse globally this August http://bbc.in/LiYn9e
BBC Worldwide Channels today announced that Richard Hammond's Crash Course, an adventurous new series which sees Hammond test drive some of America's most hazardous vehicles, will be airing globally on either BBC Knowledge, BBC Entertainment or BBC HD this August*.
An original new commission from BBC AMERICA, the series follows Richard Hammond, presenter of BBC Top Gear - the world's most popular motoring show - and wildlife event television Planet Earth Live, as he travels across the US and faces the ultimate challenge of learning how to operate America's largest and most dangerous vehicles.  Immersed in some of the country's most extreme environments, he has only days to master these monstrous machines, a task that takes years for most people to achieve.  Throughout his journey, Hammond works alongside local experts who operate these machines daily, while getting a true taste of American hospitality. 
David Weiland, SVP Programming & TV Channels, BBC Worldwide Channels commented, "We are delighted to deliver yet another distinctive and original series to our global audiences this August.  The launch of Richard Hammond's Crash Course is a fantastic example of our ongoing commitment to bring our viewers around the world closer together, and to provide original, high quality programmes that capture the very best of British talent."
The series will broadcast across the following BBC Channels:  BBC Knowledge (South Africa, Poland, Asia, Australia, New Zealand), BBC Entertainment (Nordics, India, Latin America) and BBC HD (Latin America and Brazil).
Having experienced more than his fair share of international auto-escapades, and whizzed along countless race tracks, Hammond has driven just about every high-powered and luxurious vehicle ever made, courtesy of BBC Top Gear. Now, in Richard Hammond's Crash Course, he experiences the world's biggest and toughest vehicles that are made not for show, but to get a job done. Visiting six locations, with just three days in each, he must learn how to handle a variety of complex and dangerous machines. Not only is he in a foreign land, he is now the student, getting his hands dirty and learning all aspects of the job from the men and women who operate these essential machines.  In the end, the experts decide if he has successfully completed each challenge.
Richard Hammond's Crash Course is the latest global offering from BBC Worldwide, reinforcing the network's commitment to stage bold and ambitious global television events that showcase the very best of British programming and UK talent to the world.   In three weeks' time BBC Worldwide Channels will also launch another exciting and spectacular global event, London Calling – a unique season of programming celebrating the music, fashion, art, culture and history of Britain's capital city; led by live coverage from the spectacular Queen's Diamond Jubilee celebrations. 
Richard Hammond's Crash course is a BBC AMERICA commission and produced by BBC Worldwide Productions.  Amongst the recent original commissions from BBC Worldwide Channels are Year of Adventures (5x50), which stars Ben Fogle for BBC Knowledge internationally and is based on the Lonely Planet book of the same name, Dripping in Chocolate (1x90) for Australia, and This is Sport Relief in which Stephen Fry introduces the history and context of the British TV fundraising event to a global audience. CBeebies' viewers around the world can also look forward to Andy's Wild Adventures (40x15) an exciting and innovative new commission made by the BBC's Natural History Unit. 
Notes to Editors:
* Dates and times vary and are subject to change.
For further information, please contact: 
Rachael Lewis
Communications, EMEA, BBC Worldwide Channels
Tel: +44 (0)208 433 2148
Email: rachael.lewis@bbc.com  
BBC Worldwide Channels is one of five core BBC Worldwide businesses.  Formed in 2005, the business' diverse portfolio of channel brands provides a global showcase for the best mix of British TV across factual, entertainment, children's and lifestyle programming. The company is the UK's leading international broadcaster, operating a network of localised channels that reach over 300 million homes in more than 100 countries around the world.
Search the site
Can't find what you need? Search here