BBC Worldwide wows Mipcom with first ever 3D street art stunt in Cannes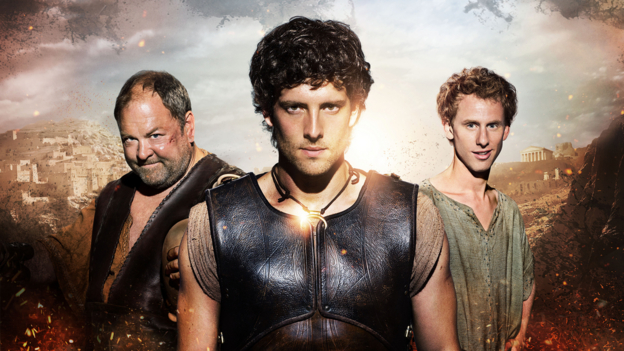 Date: 02.10.2013
Last updated: 18.03.2014 at 18.10
A 3D giant canvas will plunge visitors into the fantasy world of Atlantis. Photocall: Monday 7th October at 15:00 with cast members Jack Donnelly & Aiysha Hart on the Croisette outside Le Palais des Festivals, opposite the stairway to the Seaview.
Click to tweet: .@BBCWpress wows Mipcom with first ever 3D street art #Atlantis stunt in Cannes @BBCAtlantis http://bbc.in/16YmQbd
BBC Worldwide is celebrating the launch of its new fantasy drama series Atlantis by staging a spectacular 3D street art stunt, the first ever to take place at Mipcom.  Using ingenious tricks of perspective, the giant canvas will give spectators the impression of being plunged deep into the depths of Atlantis.  The street art will be unveiled on Monday 7th October at 15:00 by cast members Jack Donnelly and Aiysha Hart on the Croisette outside Le Palais des Festivals.
Johnny Capps, Executive Producer of Atlantis said: "With Atlantis it was essential for us to immerse viewers in a rich, fantasy world.  The 3D artwork captures that world brilliantly and it's a real pleasure to see it on display at Mipcom."
The Atlantis 3D art is the work of leading street artists 3D Joe and Max.  Measuring 6m x 3m, the canvas took 36 hours to create, using a combination of chalk pastels, acrylics, and ordinary household paint.
From the makers of hit show Merlin, Atlantis is a major 13-part drama which will bring to life the vast store of Greek myths and legends re-imagined for a new generation.  BBC Worldwide has already pre-sold the series to France (Canal Plus) and Canada (Space).
Atlantis launched on BBC One in the UK on Saturday 29th September with rave reviews and reached a peak audience of 7.7m viewers (average 5.8 million viewers) and achieved a 26.2% average share.
An Urban Myth Films production for BBC Cymru Wales co-produced with BBC America.
For more information, please contact: 
Kiran Poonia
Communications Officer, Global Markets, BBC Worldwide
Tel:      +44 (0) 7834 238444
Email:   kiran.poonia@bbc.com
Notes to Editor:
Atlantis
13 x 45' 
The legend begins. From the creators of international hit show Merlin and the creator of the Bafta award-winning Misfits. When Jason set out to find his father, he could never have anticipated where his journey would lead… Far from home and desperate for answers, Jason washes up on the shores of an ancient land. A mysterious place; a world of bull leaping, of snake haired goddesses and of palaces so vast it was said they were built by giants – this is the lost city of Atlantis. But beneath the surface is a dark and simmering past, a complicated web of treachery and deceit in which Jason seems inexplicably bound. Aided by the studious young Pythagoras and the overweight, overbearing Hercules, Jason embarks on a voyage of discovery, which sees him brush shoulders with Medusa, come face to face with the Minotaur and even do battle with the dead. As the series progresses, this unlikely but loveable trio journey through the vast store of Greek myths and legends which provide the bedrock of western literature. A treasure trove of extraordinary tales re-imagined in a thrilling and unexpected way for a new generation.
Directors: Justin Molotnikov; Alice Troughton; Declan O'Dwyer and Jeremy Webb
Executive Producers: Julian Murphy (Merlin, Hex, Sugar Rush); Johnny Capps (Merlin, Hex, Sugar Rush)
Howard Overman (Misfits, Dirk Gently)
About BBC Worldwide Ltd
BBC Worldwide Limited is the main commercial arm and a wholly owned subsidiary of the British Broadcasting Corporation (BBC). BBC Worldwide exists to support the BBC public service mission and to maximise profits on its behalf. It does this through investing in, commercialising and showcasing content from the BBC around the world, in a way that is consistent with BBC standards and values. The business also builds the reach and reputation of the BBC brand overseas and champions British creativity.
In 2012/13, BBC Worldwide generated headline profits of £156m and headline sales of £1,116m and returned £156m to the BBC. For more detailed performance information please see our Annual Review website:
http://www.bbcworldwide.com/annualreview
bbcworldwide.com
twitter.com/bbcwpress
Search the site
Can't find what you need? Search here