Danny Cohen - BBC Christmas Launch 2013
Date: 04.12.2013
Last updated: 18.03.2014 at 17.59
Danny Cohen's speech at the BBC Christmas Press Launch in London on 4 December 2013.
Good evening,
I wanted to start by thanking you for all the support you have given BBC Television this year.
I am grateful to you for your coverage of our programmes and channels and the enthusiasm you have shown for the content we've provided for licence-fee payers.
This coverage plays a really important role in helping our audiences find out about new programmes and choose what they want to watch.
So sincere thanks to you for this and for the positive working relationships you have with the BBC Television Comms' team and BBC staff in general.
It's with your help that we've been able to delight and stimulate audiences with a range of high quality BBC Television programmes in 2013.
From the hugely popular The Great British Bake-Off to the Birmingham grit of Peaky Blinders, from David Attenborough's Africa to a sparkling Strictly, from the BAFTA- winning The Revolution Will Be Televised to a wonderful Proms season, it's been a really creative and successful year for BBC Television on air.
It has also, of course, been a difficult year for the BBC in a number of ways.
The Savile crisis began over a year ago and its reverberations continue.
The details that emerged on severance pay were also damaging - and it is clear that in both these cases the BBC got much wrong.
What I hope and believe now, though, is that under new Director General Tony Hall's leadership we are emerging from these shadows and putting the focus back where it should be - on our programmes and licence-fee payers.
This has felt very much the case in the last few days with the 50th Anniversary of Doctor Who.
Doctor Who's great creative legacy was celebrated with a special episode that has been watched by more than 12 million people in the UK and was simultaneously broadcast in 94 countries around the world - from Brazil to Australia.
For me, this is the BBC at its best - bringing huge pleasure to licence-fee payers through its creativity and passion for storytelling, whilst at the same time exporting 'the best of British' to the rest of the world.
I was struck in this context by Tony Hall's call for the BBC to be more on the front foot, showcase its great content and do a better job of standing up for itself.
I agree wholeheartedly with the Director-General on this and definitely think it is something we can get better at.
I also believe that we need to look close to home to ensure that we are presenting the very best of the BBC to the public.
I'm finding a little too often that people who work for the BBC and are well rewarded for it are quick to attack or criticise the organisation in public rather than deal with any issues or concerns internally.
The BBC is an imperfect institution and 'critical friends' are an important way for us to keep improving. We must never be immune to criticism or unwilling to learn from others.
But I know that BBC staff often wonder why some of our on-screen talent and some former members of staff choose to attack or undermine the BBC in public rather than express any concerns they have in private conversations within the BBC. In short, this drives BBC staff mad.
It is very important to say that the vast majority of the talented people we work with on screen are great supporters of the BBC and I want to put on record my thanks to them for their hard work, creative dedication and public support.
But I would also like to call on those who are paid by the BBC but criticise it in media interviews and in public to think hard before they join the daily chorus of BBC bashing that takes place in some quarters.
It is damaging to an institution that I'm convinced they love and would not actually want to harm.
From now, I'd like to call on everyone who believes in the BBC to get behind it, to speak up for it, to celebrate its successes and help us explain why the BBC really matters and sits proudly at the heart of public service broadcasting and Britain's creative industries - rather than find ways to undermine it.
When problems do arise, let's deal with them in the most effective way we can and instead use the privileged platform enjoyed by those in public life to highlight the unique attractions of the BBC and help ensure it is as healthy, vibrant, impactful and creative in its 2022 centenary year as it has ever been.
This does mean continuing to raise the creative bar, learning from our mistakes, driving efficiency and value for money. But those employed by the BBC should drive this change from the inside rather than undermining this wonderful organisation from the outside.
Speaking of creative vibrancy, we have a superb Christmas schedule to showcase tonight and I'd like to thank all the programme-makers, Commissioners and Channel Controllers who have worked hard to serve up such a feast for our audiences.
Highlights include the return of Sherlock, an adaptation of PD James' latest novel set in the world of Jane Austen, a family treat in the shape of Gangsta Granny starring David Walliams and Miranda Hart and the much-anticipated return of Granville in Still Open All Hours.
There will also be Christmas specials from some of the shows our audiences treasure the most, including Strictly Come Dancing, The Great British Bake-Off, EastEnders, Mrs Brown's Boys, Bad Education, and of course the final appearance of the wonderful Matt Smith and the exciting arrival of a new Doctor in the shape of Peter Capaldi.
We have also worked to ensure that BBC Television offers a strong range of factual and special interest programmes over the holiday period.
Highlights this year include a documentary on the Arctic Convoys from Jeremy Clarkson, the Royal Institution Christmas Lectures, a New Year's Day concert live from Vienna and of course music from King's and the traditional religious services.
So thank you again for coming. Please have a look at this tape we've put together to give you a taste of our Christmas highlights.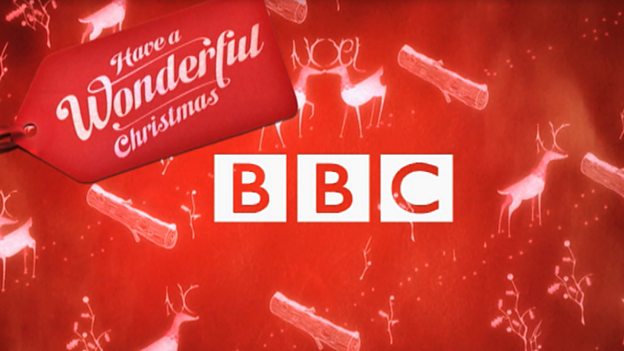 Search the site
Can't find what you need? Search here