George Entwistle: Broadcaster Priorities for 2013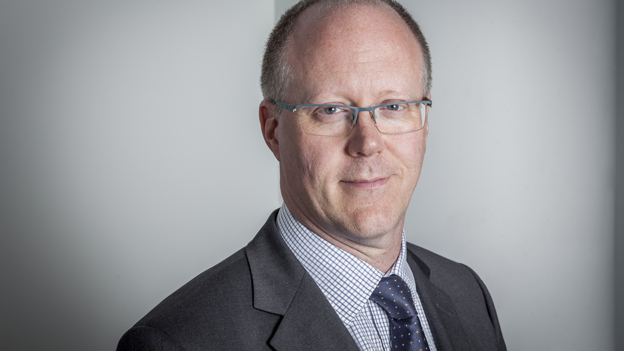 Date: 09.11.2012
Last updated: 18.03.2014 at 17.53
George Entwistle's speech at the 21st Public Broadcasters International Conference in London on 9 November 2012.
Good morning ladies and gentlemen. Can I start by saying what a pleasure it is to address such a distinguished audience.
What unites all of us in this room is, I believe, a noble calling: public service broadcasting. Like you, I'm proud to be a public service broadcaster – proud to have devoted my career to the creation of content intended simply and exclusively for our audiences. Addressing their concerns, serving their needs, making them laugh and cry, for no reason other than that is what we're here for.
It's wonderful to be among other public service broadcasters; and I'm honoured that the BBC has been able to play a central part in organising what is certainly the most important media convention of its kind anywhere in the world.
I'm told that the combined reach of the organisations represented here is around 1.5 billion people – that's about three-quarters of the combined population of our domestic markets. And that figure doesn't include extra-territorial services such as the BBC World Service.
This really is a unique gathering.
I want to thank the secretariat of PBI for the tremendously hard work that went into organising this event - as well as my BBC colleagues for their sterling efforts. I'm sure you'll agree that it's been a truly valuable couple of days.
What makes the time we've spent together special is not just the wealth of experience of the people here. Or even the standing and quality of the organisations you represent. It's the fact that at the heart of our discussions has been a universal ambition: how do we serve our audiences with the very best programmes and content?
Our great fortune is not to have to test our best ideas against advertiser or shareholder enthusiasm - not to lose our way in market segmentation, or "customer data mining", or any other pressing commercial issues.
It is our privilege to be tasked to interrogate and to celebrate the values of those civilised societies which recognise that broadcasting and its successor technologies are too important to be left "just to the market" – societies which have learnt over decades of creative success that the public service instinct is the perfect partner for the competitive instincts of a buoyant commercial sector.
When I made my first speech to staff as BBC Director-General – just seven weeks ago – I spoke about the "extraordinary gift of public trust and public money". Two foundation stones for a public broadcaster; two ideas that can never be seen in isolation - and should never be taken for granted.
One of those two – public trust – is very much on my mind today.
Your short stay in London, and Lord Patten's speech yesterday, will have given you a sense of the scale of the Jimmy Savile story. A man for years seen as an icon of television and radio entertainment; a titan of the charity and fund-raising worlds; a Knight of the realm, a Papal knight; a friend and mentor of the great and good – revealed as a serial sex abuser over decades.
A man about whom horrible revelations have emerged; and whose exposure has created a broader moment of truly national significance – the lifting of a dark curtain from behind which adult victims of abuse when they were children have come forward to find a voice and tell their stories.
It's difficult to overestimate what a traumatic time the last few weeks have been for some people in the UK. And the BBC has been at the heart of the story. Jimmy Savile was a BBC entertainer. It's become apparent that some of the assaults he carried out were on BBC premises. To BBC employees today, the idea that such things could happen is almost beyond comprehension.
But although many of Savile's crimes were committed decades ago, we are inheritors of the BBC's past. And I should be the first to admit that we haven't got everything right since this crisis started. There are lessons here for all of us. So let me tell you what we've done and what steps we're taking to try to make things better.
First of all, we've had to acknowledge our responsibility and make the clearest, strongest apology to the people at the heart of these events – the victims of Savile's abuse. Let me repeat the apology I've already made: we at the BBC are deeply sorry to have let Jimmy Savile's victims down.
And I know that I'm saying this on behalf of everyone working for us. Though the vast majority of our staff never met Savile, we share a sense of outrage that such things could have happened at the BBC - and all our sympathy is with his victims.
Our next step is to do everything we can to find out what happened and learn lessons from the past. You'll know that we have set up two independent reviews to do this. Both are led by outsiders with impeccable records for impartiality and probity. Both are supported by an independent secretariat. Both have been given the powers and full cooperation of the BBC to go where they need to go. And of course that means investigating my role in all this too.
Both inquiry reports will be presented to the BBC Trust. And they will be published by the Trust, along with supporting material, and the Trust's conclusions on the actions to be taken.
In keeping with the values of public service broadcasting, which are so precious to us all, I want to restate here our determination as an independent news and current affairs producer to continue to cover the corporate affairs of the BBC objectively and impartially - irrespective of how painful that may sometimes be.
Our third key step in striving to reassure the British public that their national broadcaster has recognised the scale of the issues at stake is to make a strong public commitment to keep the victims of Savile's abuse at the front of our minds.
We are actively engaged in discussions with NAPAC and the NSPCC, two of the charities who've done invaluable work in dealing with the revelations triggered by the disclosure of Savile's crimes. We are taking their advice on how to provide the best possible support for victims where that task falls to us.
There is perhaps one good thing to come out of Savile's appalling behaviour: the breaking of the silence in which so many adult victims of child abuse have been imprisoned. There is an opportunity now to ensure their voices can be heard and a culture created across the UK that will make crimes like these less likely in future. I'm determined the BBC will play its part.
And my final resolution in leading the BBC's response to Jimmy Savile is to do all we can to make ourselves better in future. At the BBC, we are reviewing all our practices and policies relating to child protection. But we're going further than that. We aim to create a culture where power and influence never put anyone beyond accountability. We have invited the NSPCC and the independent QC Dinah Rose to join us and help us do these things.
I've taken some time to tell you everything we've done – and everything we're still planning to do – because I believe these are actions we must take if we are to continue to deserve the public's trust. There are no short cuts: we have to acknowledge responsibility; apologise to victims; commit ourselves to finding out what happened; and cooperate as closely as possible with the police.
Even as we do all this, I recognise it will take time before we can hope to regain the trust of our audiences; to feel that sense of pride – and that sense of ownership – that audiences had in the BBC during the London 2012 Olympics.
We know this from our past experience. During editorial troubles in the last decade – the misleading trailer for a documentary about Her Majesty the Queen or irregularities in BBC-run competitions – there was a marked falling off in trust from our audiences. Because they set the highest standards for us, they rightly feel more keenly disappointed when we fail to measure up.
Yet, even when the public felt most let down, they still believed that the BBC could be trusted to put things right itself. And we did. The rigour and honesty with which the BBC handled past crises renewed our audiences' confidence in us. My determination is that we accomplish this again.
The themes emerging from this conference over the past two days have shown not only the fundamental importance of trust in public service broadcasters, but also trust in public life more widely. Most topically how do we remain impartial, and demonstrably impartial, during elections like this week's in the US?
The truth is we all face challenges of trust continually as we negotiate our place in our audiences' homes and hearts.
As public service broadcasters, we must recognise it falls to every one of us to lift our eyes from the pressing issues of the day, whenever we can, and recognise the responsibility and opportunities we have to make a positive impact on the broader discourse of trust in public institutions.
At the beginning of this speech I referred to the "extraordinary gift of public trust and public money", so let me turn now to the second half of that proposition: public money and what we do with it.
We heard yesterday a powerful collective pitch for stable and secure funding. I believe wholeheartedly that in return for this privilege, we must deliver boldly creative, innovative and socially-relevant content.
Many parts of my inheritance as the leader of the BBC represent a perfect platform from which to undertake creative renewal. The BBC people who've filled the unforgiving minutes of the past few weeks with television, radio and online content of exceptional quality are the best part of that inheritance and have a resounding vote of thanks from me.
I thank them all for staying true to our standards; for keeping the British public informed, educated, and entertained despite the onslaught we've faced from some of our friends in the newspapers. My particular thanks go to the News teams who've reported the US election with such energy and insight.
Behind our brilliant people, the BBC has the institutional security of a 10-year Royal Charter safeguarding its independence. It has the funding security of a licence fee deal which, though tough, guarantees our income until 2017. And it has the operational freedom to fulfil a broad remit across platforms and genres.
But the creative and structural challenges to how we spend our precious public money come in hard and fast from every point of the compass.
Globalising competition, particularly from those who have not historically invested in content. The increasing threat of digital intermediaries who may act as gatekeepers and come between us and our audiences. Commercial consolidation leading to growing concerns about diversity in the supply of content. And - I think for all of us - on-going economic pressures in wider society resulting in a need to demonstrate afresh our contribution to the creative economy.
But in this new world, compelling content really will still be king. And I believe that the public service broadcasters are well placed to take advantage of the creative opportunities. As we heard from the speakers yesterday, in markets around the world, it is the PSBs that have the primary role in driving investment in domestic content.
Here in the UK for example, around 90% of the investment in original television comes from the BBC and the commercial PSBs. And that investment delivers a diverse range of genres and programming, from hits such as BBC One's Doctor Who to that wonderful multiplatform celebration of British wildlife – Springwatch.
We will always have cause to celebrate content like this so long as investment in it is focused unremittingly on audience benefit. The danger that lurks in the wings is commodity content –built to spec with an eye only for multiple eps. In the UK, we've found that a well-funded pipeline of domestic content that's right for our audiences underpins export success too, with shows such as Strictly Come Dancing and Top Gear.
I see positive signs of this elsewhere, for example with Piv Bernth's magnificent Nordic crime dramas that the BBC has been so proud to import. Built on foundations as secure as audience love and creative excellence, content investment can provide a platform for growth in the wider creative industries and support national economic recovery.
So creating public service content our audiences love and value is the starting point. Yet to achieve the impact we long for, it must be accessible to all – requiring a strong digital terrestrial platform for the foreseeable future. It must also be discoverable – easy to find amid the super-storm of more variable quality content.
Investment, accessibility and discoverability have historically worked together in a virtuous circle to deliver maximum value for licence fee payers. These are the foundations of what we do.
But I think we are all going to need regulatory support which keeps better pace with the changing dynamics of broadcast and distribution – and arguments about access to spectrum, EPG prominence and net neutrality will I suspect become yet more prominent in our lives.
When trying to gaze into the future, I often find the most profound challenge is that two apparently contradictory things need to happen at exactly the same time. As I've just said, our foundations are crucial: in this country people love watching television; they do as much of it as ever. And they use free-to-air digital TV more than any other distribution system.
While that's critical for public service broadcasters in the UK, and I suspect further afield, I think we can all start to see the incoming arc of a new way of doing things. My belief is that the cross-fade between the old and the new will take a long time to play out. But that must not mean we miss the things the digital future promises.
Looking back again at my inheritance as a leader of a content creating organisation, I see two fairly distinct eras of digital development: the era of 'Digital publishing', between around 1993 and 2003, with words and pictures finding their way online; and the era of 'Digital playback', between around 2003 and now, with internet video and IPTV coming on-stream.
The BBC has played a major role in both these eras. BBC online and the BBC's iPlayer have blazed trails here which have shown how the best of the past and present can be delivered into the future to the delight and acclaim of audiences.
The new era, the one we're entering now, doesn't have a name yet but I'll have a stab … I think we are entering the era of 'Digital pervasiveness'. And the challenge it will bring will be to move from the primacy of live content to the primacy of living content - by which I mean content shaped by audiences as they consume it.
By its nature, such content is hard to define because we haven't yet discovered what might happen when you truly move beyond text, stills, audio and video as the irreducible atomic structure of the media world.
At the BBC we've been very good at delivering stills and text online; we've become very good at delivering audio and video online. We're starting to experiment – very successfully in places – with what it means when technology allows us to match a live digital interactive experience with a synchronous linear experience.
Our iPad app which allows you to sync your tablet to the broadcast stream of our classic Antiques Roadshow on BBC One and try to match the experts' skill in valuation feels like a glimpse of a different future.
But it's only the beginning. To understand, achieve and deliver digital pervasiveness, we're going to have to enhance and extend our audiences' experiences with new functionality and new access to social interaction.
We're going to have to master the provision of 'onward journeys' for our audiences to related content and services - which manifest themselves at exactly the right moment, on exactly the right device, in exactly the right form. And we're going to have to learn from and be stimulated by the technologists … Some organisations in this room are showing the way here – I'm thinking for example of NHK's work on hybridcast.
There's as much uncertainty in this vision as there is opportunity – I know. But I also know that an organisation like the BBC has to go looking for the things it doesn't yet understand. And I'm convinced we have to think hard about organising ourselves properly for the journey.
I'll keep on saying this: in the end, an organisation built to create Television, Radio and Online content will struggle to do more than that. I see my biggest challenge as creating a different organisation, designed to guarantee the safety of these well-loved content forms - which I believe have rich and vital lives ahead of them – but an organisation fit too to search for and find the great, big, vital, life-changing thing that has to come next.
As we've looked ahead to 2013 here at PBI, we've heard many concerns about the future. Loss of free-to-air sport; funding reviews; charters to be won; greater independence in how we cover politics to be fought for and secured. Big themes - essential to us all. And hovering above them, the promise and challenge of what everything digital may yet come to mean.
But in my final thoughts I want to go back to the underpinning priority – the one thing that matters more than anything else.
We only get the money, we only get to make the content, we only get to explore new content forms if our audiences trust us to do it for them.
We need them to trust our appetite for creative excellence and creative innovation; we need them to trust our determination to spend their money carefully; but above all we need them to trust us to have the right values and to live by those values.
The prize if we get all that right is enormous – the chance to carry on taking our audiences on the most exciting content journeys of their lives.
Search the site
Can't find what you need? Search here