Up The Women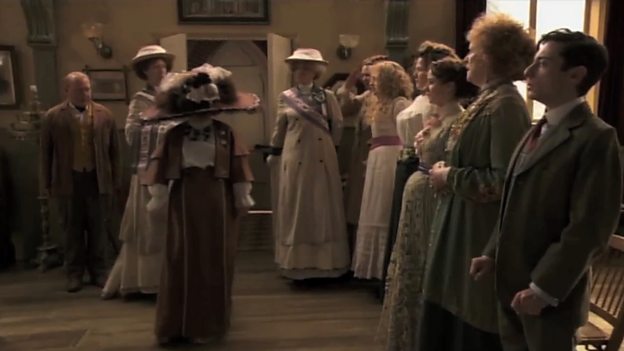 Confirmed for BBC Four on 13 June at 8.30pm to 9.00pm

Ep 3/3

Thursday 13 June
Margaret has written to the great Emmeline Pankhurst to tell her of the exploits of Banbury Intricate Craft Circle Politely Requests Women's Suffrage: picketing the Post Office.
The group are surprised when a response from Mrs Pankhurst herself arrives, announcing that she will be taking in Banbury on her tour of Oxfordshire and wishes to attend one of the group's meetings.
The ladies soon realise that Mrs Pankhurst's arrival is more imminent than previously thought and elaborate preparations for their 'Great Women Through the Ages' pageant are greatly condensed - and Gwen whips up her 10-minute trifle in just five.
However, when she arrives, the leader of the Suffragette movement doesn't quite match up to the great lady the women had envisioned. All of them except Helen that is, who, it emerges, has a history with Mrs Pankhurst, and her arrival brings back less than favourable memories.
Margaret is played by Jessica Hynes, Helen is played by Rebecca Front, Gwen is played by Vicki Pepperdine, Myrtle is played by Judy Parfitt, Frank is played by Adrian Scarborough, Eva by Emma Pierson, Thomas by Ryan Sampson, Emily by Georgia Groome, and Emmeline Pankhurst is played by Sandi Toksvig.
SH8
Search the site
Can't find what you need? Search here
More in Week 24
Updates from the Media Centre
Schedules