Blandings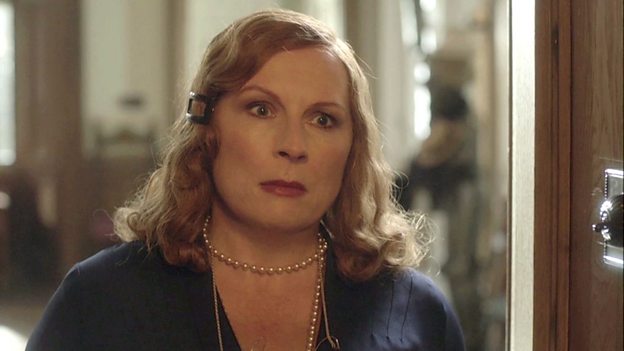 Confirmed for BBC One on 13 January at 6.30pm to 7.00pm

Ep 1/6

Sunday 13 January
An all-star cast heads up BBC One's brand new period comedy series Blandings, based on PG Wodehouse's celebrated stories and adapted by Guy Andrews (Lost In Austen).
Set in 1929 in the fictional Blandings Castle, Timothy Spall plays the amiable but befuddled Lord Emsworth (Clarence to his friends), who struggles to keep his dysfunctional family in order and usually adds to the chaos himself. All Clarence wants is to be left in peace with his beloved pig The Empress but his plans are often thwarted by an array of friends, visitors, servants and spongers. Jennifer Saunders stars as his indomitable sister Connie, Jack Farthing as hapless son Freddy and Mark Williams as long-suffering butler Beach. Guest appearances during the series include David Walliams, Paloma Faith and David Bamber.
In tonight's first episode 'Pig-Ho-e-e-e-ey' Clarence has to get his pig eating again or he will lose the Fattest Pig prize to his fiendish rival Sir Gregory Parsloe-Parsloe (Robert Bathurst). Meanwhile, Connie demands he put a stop to his niece Angela's (Alice Orr-Ewing) love affair with ex-cowboy Jimmy (James Norton) and to propel her towards a more appropriate match with the noxious Lord Heacham (Brendan Patricks), who just happens to be Sir Gregory's nephew!
Blandings has been written by Guy Andrews (Lost In Austen, Absolute Power) who is also the executive producer. The producer is Spencer Campbell (Cold Feet, Mad Dogs) and the director is Paul Seed (BAFTA-winning Just William). Mammoth Screen's joint Managing Directors Michele Buck and Damien Timmer are executive producers. The BBC executive producer is Kristian Smith.
LDS/LV
Search the site
Can't find what you need? Search here
More in Week 3
Schedules