Wizards Vs Aliens
Brand new action adventure drama comes to CBBC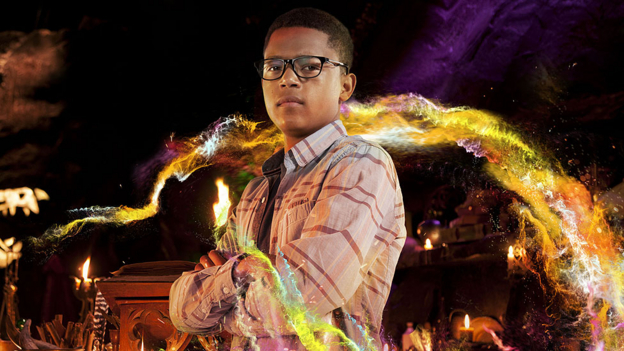 Interview with Percelle Ascott
Tell us about Wizards Vs Aliens
Wizards Vs Aliens is a tale about two unlikely friends, Benny and Tom about their journey defending Earth against the Alien Nekross who are after magic on Earth. Benny who has a passion for science, accidentally becomes friends with the most popular kid in school, Tom, due to the alien Nekross attacking Earth. But he discovers his big secret, that he is a wizard. With Benny's brains he is able to help, but as the story begins to unravel they face tougher challenges.
What is your character like in the show?
My part in the show is playing the character of Benny Sherwood. Together Benny and Tom Clarke (Scott Haran) work together to defend Earth, using Benny's knowledge and Tom's magic against the alien Nekross.  
What's Tom's character like?
He's a cool guy, funny, brave and popular. He just has a problem with admitting that Benny's right about everything…
They're quite different characters, why do they become friends?
It's an unlikely friendship, they bonded as they had to rely on each other in their battle to defend Earth.
Are you and Scott friends in real life?
Yeah, but I'm the cool one in real life.
What was it like working with the rest of the cast?
Amazing, I learned so much from the cast. Everyone was so supportive we became a really close group.
What are the aliens like?
Giant, covered in ugly tentacles, and they're evil...
What was your favourite part about filming the show?
Prior to this role, I'd never worked on a big scale production, so to have the opportunity is amazing. Working with an incredible crew and an inspiring cast, and being able to transport myself into a world where aliens are attacking Earth and I'm working with a wizard is probably the best thing.
Do you believe in science or magic?
A mixture.
What was it like doing the special effects?
Tricky to start with but the crew made it so much easier, it was loads of fun.
What's the best thing about the show?
Benny!
Search the site
Can't find what you need? Search here