Wizards Vs Aliens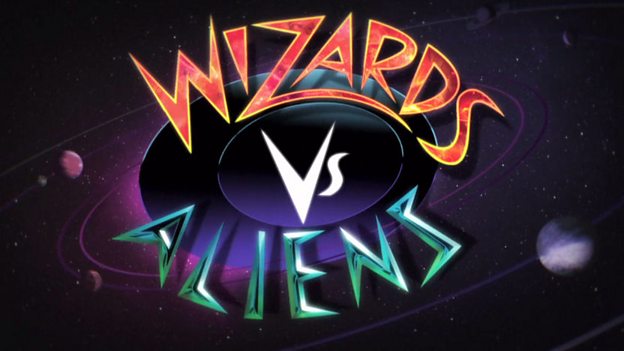 Date: 05.10.2012
Last updated: 25.03.2014 at 13.21
Wizards Vs Aliens is the thrilling new 12x30-minute action adventure drama from Russell T Davies and Phil Ford (The Sarah Jane Adventures, Doctor Who) launching on CBBC this October.
The ultimate battle of magic versus science is about to commence. The Nekross are a race of aliens who feed on magic, and having travelled from planet to planet draining every drop, they're orbiting Earth to do battle with its wizards for the last remaining magic in the universe. And there's just one 16 year-old boy who can stop them…
Tom (Scott Haran) is a wizard; his family are wizards on his mum's side. He lives with his unenchanted dad Michael (Michael Higgs – Eastenders, The Bill) and his very enchanted grandma Ursula (Annette Badland – Doctor Who, The Sparticle Mystery). Their magical powers are a secret of the highest order. As is the entrance to the family Chamber of Mysteries, helpfully disguised as the downstairs loo.
A secret, that is, until a school trip goes horribly wrong and Tom is forced to reveal his magic to Benny (Percelle Ascott) the school science geek. Benny doesn't believe in magic. Tom doesn't believe in aliens. They are both wrong! They soon realise that together they make the perfect team and learn to combine their skills in magic and science in each battle against the Nekross.
Tom and Benny become best friends as they fight side by side to protect Tom's family and all of Earth's magic. A fast paced adventure full of drama, friendship, family and fun, Wizards Vs Aliens follows Tom's journey as he learns about his magic, his family and the secrets of the universe.
The show also stars Brian Blessed as the voice of the Nekross King with Gwendoline Christie and Jefferson Hall from Game of Thrones as alien Nekross Lexi and Varg.
Wizards Vs Aliens is produced by BBC Cymru Wales in association with FremantleMedia Enterprises (FME) and was filmed at BBC's Roath Lock Studios in Cardiff. The show is executive produced by Russell T Davies, Bethan Jones, Gina Cronk and Sue Nott for the BBC and Bob Higgins and Sander Schwartz for FME. The producer is Brian Minchin and co-producer Phil Ford.
FM
Cast list
Scott Haran - Tom Clarke
Percelle Ascott - Benny Sherwood
Annette Badland - Ursula Crowe
Michael Higgs - Michael Clarke
Jefferson Hall - Varg
Gwendoline Christie - Lexi
Brian Blessed - Nekross King
Dan Starkey - Randal Moon
Manpreet Bambra - Katie Lord
Connor Scarlett - Quinn Christopher
Brian Miller - Old Mark
Search the site
Can't find what you need? Search here