White Heat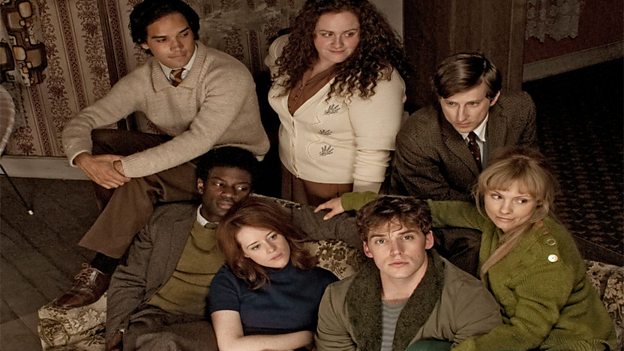 Date: 17.02.2012
Last updated: 25.03.2014 at 13.21
A new epic drama for BBC Two written and created by Paula Milne, White Heat charts the lives of seven friends from 1965 through to the present day.
Their relationships - complex, volatile, life affirming and life changing - start when they come together as a diverse group of young students to live as flatmates in London's Tufnell Park: rebel with a cause Jack played by Sam Claflin, intelligent feminist Charlotte played by Claire Foy, fragile beauty Lilly played by MyAnna Buring, medical student Jay played by Reece Ritchie, electronics geek Alan played by Lee Ingleby, law student Victor played by David Gyasi and kind hearted Orla played by Jessica Gunning.
The series follows them over almost five decades as their lives, loves and destinies are shaped by the political events of each era - from the death of Churchill, the union strife of the Seventies, the ascendancy of Thatcher, the Falklands, AIDS, the end of the Cold War to the present day. Their interwoven personal lives play out against the backcloth of these crucial events to make them the people they are today.
White Heat is directed by John Alexander and produced by Elinor Day. The executive producers for ITV Studios are Paula Milne and Kate Bartlett and the executive producer for the BBC is Lucy Richer.
The series was commissioned by controller of BBC Two, Janice Hadlow and Controller of BBC drama commissioning, Ben Stephenson.
RN
Cast list
Jack - Sam Claflin
older Jack - Michael Kitchen
Charlotte - Claire Foy
older Charlotte - Juliet Stevenson
Lilly - MyAnna Buring
older Lilly - Lindsay Duncan
Jay - Reece Ritchie
older Jay - Ramon Tikaram
Alan - Lee Ingleby
older Alan - Paul Copley
Victor - David Gyasi
older Victor - Hugh Quarshie
Orla - Jessica Gunning
older Orla - Sorcha Cusack
Edward - Jeremy Northam
Beth - Tamsin Greig
Miles - Richard Lintern
Frank - Geoff Leesley
Val - Karen Henthorn
Derek Bowden - Julian Barratt
Aasif - Akshay Kumar
Emma - Abigail Guiver
Boris - Tim Barlow
Alec - Will Bliss
Leah - Holly Weston
Connor - Andrew Simpson
Search the site
Can't find what you need? Search here